RACING THIS WEEK
FEATURES
SERVICES
Los Alamitos Race Course enjoyed its biggest Pick Four night ever on Sunday.

© Scott Martinez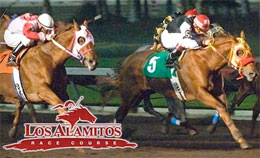 It's A Record Night In The Popular Pick Fours At Los Alamitos
LOS ALAMITOS, CA—NOVEMBER 4, 2018—
Los Alamitos Race Course enjoyed its biggest Pick Four night ever after a combined total of $403,289 was wagered in the Early and Late Pick Fours on a Sunday (Nov. 4) which was highlighted by Flash And Roll winning the running of the Grade 1 Golden State Million Futurity.
The combined total beat the previous record of $396,688 set on Robert Adair Kindergarten Futurity night on May 20, 2018. In addition, the pool for the Early Pick Four on Sunday of $218,339 ranked as the third highest ever at Los Alamitos for a single night, while the pool for the Late Pick Four, which included the Golden State Million Futurity, was $184,950, the third highest total ever for the wager.
The total amount wagered during the weekend of November 2-4 was $1,016,794 to make it the fourth biggest weekend ever in Pick Four wagers at Los Alamitos. Live racing continues at Los Alamitos on a Friday through Sunday night basis. The track offers two nightly Pick Fours with the Early wager kicking off in race number one while the Late features the final four races on the card each racing night.
* * * * * * * * * * * * * * *
The all-sources handle for Golden State Million Futurity Night on Sunday, November 4 of $1,850,689 was the fourth highest of the season. The record high for the current meet is $1,920,811 set on California Breeders Champions Night on Saturday, July 28. For more info, call 714-820-2690.
Los Alamitos Highest All-Time Pools In the Early Pick Four
Sunday, May 7, 2017 $239,868
Saturday, June 9, 2018 $229,207
Sunday, November 4, 2018 $218,339
Saturday, May 19, 2018 $215,145
Saturday, January 13, 2018 $208,811
Los Alamitos Highest All-Time Pools In the late Pick Four
Sunday, June 10, 2018 $203,647
Sunday, May 20, 2018 $196,385
Sunday, November 4, 2018 $184,950
Sunday, August 6, 2018 $173,941
Sunday, February 11, 2018 $166,847
Courtesy of www.losalamitos.com.