RACING THIS WEEK
FEATURES
SERVICES
BRTSendingMyRegards has completed the qualifications for one of the rarest awards in the American Quarter Horse industry.

© Larri Jo Starkey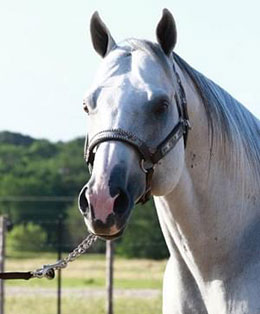 BRTSendingMyRegards Earns 52nd AQHA Open Supreme Champion Honor
AMERICAN QUARTER HORSE ASSOCIATION—NOVEMBER 30, 2018—
BRTSendingMyRegards is the 52nd Open Supreme Champion in the history of the American Quarter Horse Association. The horse is owned by Tim Meyer of Sylvan Grove, Kansas.
The title requires a horse to have raced and achieved a speed index of at least 90 on two occasions, earn at least 40 points in halter and performance classes at more than five different AQHA shows, including two grand champion titles. The performance points must come in a riding class and in cattle classes, like roping and cutting.
BRTSendingMyRegards is a 2009 gray stallion by Chicks Regard and out of the Holland Ease mare Aleisha Elaine. He was bred by Ryan Story Chesley of Perkins, Oklahoma, with the guidance of 30-year breeder Dr. Bob G. Story of Perkins, Oklahoma.
On the racetrack under the training of Eddie D. Willis of Caney, Oklahoma, BRTSendingMyRegards placed either second or third in eight of 10 races in 2011 and 2012.
"It's that 'it' factor that you can't always define, but you know it when you see it," said Meyer, who had his eye on the stallion as soon as he stepped off the track. "Big and powerful and pretty. Lots of balance and correct in structure. And he was one of those who could continually catch your eye, with charisma."
The stallion was undefeated in his halter career, winning the halter performance stallion world championship at the 2013 Adequan® Select World Championship Show.
BRTSendingMyRegards earned AQHA points in heading and ranch riding with trainer Steve Orth of Guthrie, Oklahoma. He has also earned an AQHA Champion title.
The stallion and his connections are featured in the December issue of The American Quarter Horse Journal, which AQHA members can read for free at www.aqha.com/qhj. The Journal is the official publication of the American Quarter Horse Association.
* * * * * * * * * * * * * *
AQHA News and information is a service of the American Quarter Horse Association. For more news and information, follow @AQHARacing on Twitter, watch the AQHA Racing Newscast and visit aqha.com/racing.