RACING THIS WEEK
FEATURES
SERVICES
The AQHA Racing National Polls remain steady as major Grade 1s approach quickly.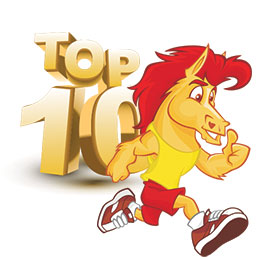 AQHA Racing National Poll Steady as Grade 1s Approach
AMERICAN QUARTER HORSE ASSOCIATION—DECEMBER 5, 2018—
The latest AQHA Racing National Polls were mostly unchanged as the final month of the year arrived. While there are only a handful of Grade 1 races left in 2018, a significant number of ranked horses are expected to see action before the final rankings.
In the older-horse poll, Jessies First Down, American Quarter Horse racing's world champion two years running and a three-time Grade 1 winner this year, maintained a slim margin over Hotstepper, winner of the Grade 1 All American and Texas Classic derbies the season.
Jessies First Down is expected to race in The Championship at Sunland Park (G1) on December 30, while as many as seven horses in the current top 10 could run in the December 15 Champion of Champions (G1) at Los Alamitos.
Among the 2-year-olds, Apocalyptical Jess still holds the top spot as he has since winning the $3 million All American Futurity (G1) on Labor Day at Ruidoso Downs. However, the sport's second-richest race, the $1,878,425 Los Alamitos Two Million Futurity (G1) in Southern California, is on tap for December 16 and includes No. 3-ranked Flash And Roll, who seeks her second Grade 1 win of the year.
NATIONAL RANKINGS, 3-YEAR-OLDS AND OLDER
JESSIES FIRST DOWN (90)
HOTSTEPPER (86)
BH LISAS BOY (71)
BODACIOUS EAGLE (63)
JESSTACARTEL (47)
HE LOOKS HOT (46)
ZOOMIN FOR SPUDS (35)
HEZA DASHA FIRE (31)
HOLD AIR HOSTAGE (24)
TARZANITO (18)
MAJOR BITES (17), JESS MOVE YOU (10), KVN CORONA (5), SF HOT PASS (3), ONE SWEET RACY (2), JESS RAVIN (1), THIS IS A DEAL TOO (1).
NATIONAL RANKINGS, 2-YEAR-OLDS
APOCALYPTICAL JESS (95)
MM FOURINTHEMORNING (88)
FLASH AND ROLL (70)
FLYING COWBOY 123 (64)
BLUE CORAZON (47)
WAVE HER DOWN (38)
IM JESS SPECIAL V (32)
SUZE RETURNS (26)
LONG WAGON HO (24)
LYNNDER 16 (20)
POWERFUL FAVORITE (9), JEST FAMOUS (8), DANJER (7), WICKED AFFAIR (7), PAINT ME A SINNER (6), JESS FIRE CHICK (5), KR HI FIVE (2), COLE MAN 47 (1), EAGLE COAST (1).
The integrity of American Quarter Horse racing is of utmost importance to AQHA. As part of a multifaceted effort to ensure integrity, AQHA has instituted a policy concerning awards and publicity that makes horses with racing medication positives and horses trained by trainers with racing medication positives ineligible for the AQHA Racing National Polls. CLICK HERE to read the complete policy.
* * * * * * * * * * * * * *
AQHA News and information is a service of the American Quarter Horse Association. For more news and information, follow @AQHARacing on Twitter, watch the AQHA Racing Newscast and visit aqha.com/racing.