RACING THIS WEEK
FEATURES
SERVICES
Reigning world champion Jesses First Down and two-time Grade 1 winner Flash And Roll ended the year in the AQHA Racing National Poll "top spots" for their respective divisions.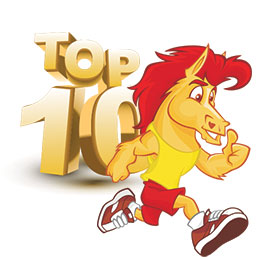 Jessies First Down, Flash And Roll Top Final 2018 AQHA Racing National Poll
AMERICAN QUARTER HORSE ASSOCIATION—JANUARY 8, 2019—
The year's final AQHA Racing National Polls saw Jessies First Down and Flash And Roll top their respective polls.
Jessies First Down captured the December 30 $350,000 Championship at Sunland Park (G1) in decisive fashion and topped the year's final AQHA Racing National Poll for older horses. The top spot in the 2-year-old rankings was essentially clinched earlier in December when Flash And Roll notched her second Grade 1 futurity of the season and ascended to No. 1 in that poll.
Jessies First Down clocked 440 yards in :21.156 at Sunland to secure his fourth Grade 1 win in as many trips to the post in 2018. The sport's reigning two-time world champion, a now 8-year-old gelding by FDD Dynasty, earned $548,638 during the year to boost his lifetime bankroll to $1,624,002 with 19 wins from 38 starts.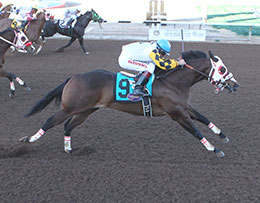 Jesses First Down secured his top spot on the AQHA Racing National Poll of older horses with a win in the $350,000 Championship at Sunland Park(G1) on December 30.
© Coady Photography
Finishing close behind him in the voting was Johnny Trotter's Bodacious Eagle, who finished a campaign highlighted by major wins in the Grade 1 Champion of Champions at Los Alamitos Race Course and All American Gold Cup at Ruidoso Downs. Racing seven times from May to December, the consistent
One Famous Eagle
gelding was never worse than third, and also had wins in the Z. Wayne Griffin Directors Trials, and placings in the Robert L. Boniface Los Alamitos Invitational Championship (G1), Remington Park Invitational (G1) and Mr Jet Moore Handicap (G2).
Rounding out the top three was Hotstepper, winner of the Grade 1 All American and Texas Classic derbies at Ruidoso Downs and Lone Star Park, respectively.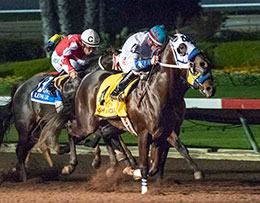 Flash And Roll's victory in the $1.8 million Los Alamitos Two Million Futurity December 16 helped her edge out All American Futurity(G1) winner Apocalyptical Jess for the top spot in the final 2018 AQHA Racing National Poll for 2-Year-Olds.
© Scott Martinez
In the 2-year-old poll, Flash And Roll edged out All American Futurity (G1) winner Apocalyptical Jess for the No. 1 spot at year's end. Owned by Scott Bryant and trained by Justin Joiner, the California-bred Flash And Roll won six of seven starts, including two of the richest races at Los Alamitos, the $1,878,425 Los Alamitos Two Million Futurity and $972,750 Golden State Million Futurity. Ridden by 10-time AQHA Champion Jockey G.R. Carter Jr. in all her starts, the daughter of
First Moonflash
earned $1,213,754.
Bill Robbins' Apocalyptical Jess, winner of the sport's richest race when he took down the lion's share of the $3 million purse on Labor Day at Ruidoso Downs, finished second in the rankings. MM Fourinthemorning, winner of the Rainbow Futurity (G1) at Ruidoso, took third in the poll.
NATIONAL RANKINGS, 3-YEAR-OLDS AND OLDER
JESSIES FIRST DOWN (90)
BODACIOUS EAGLE (85)
HOTSTEPPER (77)
JESSTACARTEL (68)
BH LISAS BOY (64)
ZOOMIN FOR SPUDS (40)
HE LOOKS HOT (32)
HEZA DASHA FIRE (28)
HOLD AIR HOSTAGE (23)
MAJOR BITES (18)
TARZANITO (11), JESS MOVE YOU (5), SF HOT PASS (3), JESS RAVIN (2), ONE SWEET RACY (2), KVN CORONA (1), THIS IS A DEAL TOO (1).
NATIONAL RANKINGS, 2-YEAR-OLDS
FLASH AND ROLL (96)
APOCALYPTICAL JESS (90)
MM FOURINTHEMORNING (79)
FLYING COWBOY 123 (66)
BLUE CORAZON (43)
WAVE HER DOWN (42)
IM JESS SPECIAL V (26)
LONG WAGON HO (24)
SUZE RETURNS (20)
LYNNDER 16 (15)
ALI BABE FOOSE (10), JEST FAMOUS (9), DANJER (6), PAINT ME A SINNER (6), WICKED AFFAIR (6), POWERFUL FAVORITE (5), JESS FIRE CHICK (4), KR HI FIVE (2), EAGLE COAST (1).
The integrity of American Quarter Horse racing is of utmost importance to AQHA. As part of a multifaceted effort to ensure integrity, AQHA has instituted a policy concerning awards and publicity that makes horses with racing medication positives and horses trained by trainers with racing medication positives ineligible for the AQHA Racing National Polls. CLICK HERE to read the complete policy.
* * * * * * * * * * * * * *
AQHA News and information is a service of the American Quarter Horse Association. For more news and information, follow @AQHARacing on Twitter, watch the AQHA Racing Newscast and visit aqha.com/racing.