RACING THIS WEEK
FEATURES
SERVICES
AQHA Hall of Famer Ed Alred is one victory away from becoming the first owner to reach the 1,500th win milestone in Quarter Horse racing.

© Los Alamitos Race Course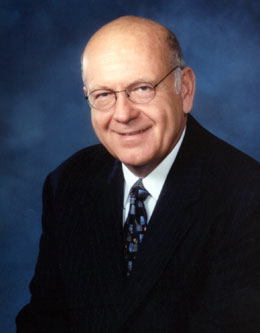 Ed Allred Nears Quarter Horse Racing Milestone Of 1,500th Wins
LOS ALAMITOS, CA—FEBRUARY 6, 2019—
Ed Allred, a member of the American Quarter Horse Association Hall of Fame class of 2006, is one victory away from becoming the first owner to reach the 1,500th win milestone in Quarter Horse racing.
The sport's all-time leading owner and breeder, Allred could reach the mark on Friday night as his iconic Rolling A Ranch's gold silks will be represented by the Walk Thru Fire gelding Oatie Three in the fifth race to be contested at 100 yards. First post for the eight-race program is 7 p.m. On Sunday night, Allred will be represented by He Looks Hot, AQHA's newest Supreme Race Horse, as he'll be in action in the Grade 1 Brad McKinzie Los Alamitos Winter Championship at 400 yards.
Quarter Horse racing caught Allred's attention for the first time in 1956 when he noticed in a Daily Racing Form article that the Allred Brothers were running Quarter Horses at Los Alamitos.
Although no relation to the brothers, Allred was intrigued enough to start visiting Los Alamitos. Allred loved the sport from the start. From time-to-time, Allred would go to the Orange County track with his friend, Tom Seibly and the more he was around Los Alamitos, the more he loved the track and the Quarter Horses.
A few years later, Allred saved enough money to buy a horse. His first horse was Beowawe. He also partnered on a mare named Punch Time.
Through the years, Allred's Quarter Horses have started in 10,647 races, won 1,499 races, scored in 97 stakes, and earned $19,755,370. The owner will go over the $20 million in career earnings on Friday night. Allred has also won additional races as co-owner, but those wins are not counted in his individual statistics.
His top stakes winners over the years have included Charger Bar, He Looks Hot, Kingman Kid, Way Maker, Twelvie, Forgive Him, Check My Thoughts, Mega Storm, Flare For Toby, Quirky, Don Callendar, Once Over, How Special, Girl Secrets, Private Practice, Really A First, Fourth And Two, Dreaming Sweet, Look Her Over, Citation Five, Up For it, etc.
Allred has won the AQHA champion owner title a record six times and the AQHA champion breeder title a record 12 times. As a breeder, Allred has raised many outstanding horses like Separatist, Make It Anywhere, Way Maker, Worth Doing and Making Ways, plus nearly all of his stakes winners.
In 1990, with the help of close friend R. D. Hubbard, Allred purchased one-half interest in Los Alamitos Race Course. Eight years later, Allred was sole owner of the track.
* * * * * * * * * * * * * * * * *
Courtesy of www.losalamitos.com.