RACING THIS WEEK
FEATURES
SERVICES
StallioneSearch.com will release the May Film Of The Month sponsored by Horse Logic on StallioneSearch.com, as well as on Facebook on Monday.

© StallioneSearch / Greg Thompson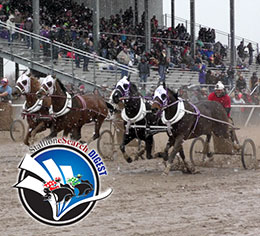 May Film of The Month Debuts Monday
DALLAS, TX—MAY 9, 2019—
On Monday (May 13), StallioneSearch.com will continue the
Film Of The Month
series of short films being sponsored by HorseLogic on StallioneSearch.com, as well as on Facebook with the May edition.
The installment for the month of May introduces a new series entitled The StallioneSearch Digest. On the StallioneSearch Digest, StallioneSearch's own Greg Thompson covers several short-topics in the Quarter Horse racing world.
The first edition of the StallioneSearch Digest tackles three different storylines related to Quarter Horse racing. A trip to the Chariot Racing World Championships in Ogden, Utah is the first segment.
It is followed by a trip to Carencro, Louisiana to view a piece of "Hollywood in Louisiana", in which the location of the Quarter Horse racing movie Casey's Shadow is visited.
The third segment centers around a sit-down discussion with Ruidoso Downs General Manager Jeff True, who is coming off of his first years as general manager. A variety of topics are discussed, including the outlook for the improvements made at Ruidoso Downs for the 2019 summer race meet.
* * * * * * * *
HorseLogic is a nutritional supplement company, offering a wide array of equine products that can be shipped directly to your barn or stable. A product-line that is trusted by horse professionals from all over the nation, HorseLogic Professional is being endorsed by some of the leaders in the racing industry. Visit Horse Logic at horselogicpro.com.