RACING THIS WEEK
FEATURES
SERVICES
Live racing returns to the Cochise County Fairgrounds in Douglas, Arizona May 18 and 19.

© Coady Photography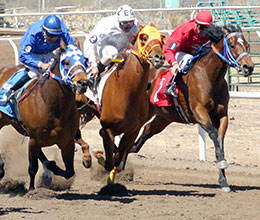 Racing To Return to Cochise County Fairground May 18-19
DOUGLAS, AZ—MAY 15, 2019—
According to Dominique Valenzuela, General Manager at the Cochise County Fairgrounds (CCF) in Douglas, Arizona, racing facilities at the fairgrounds have passed inspection from the Arizona Department of Gaming and horses will be racing Saturday and Sunday, May 18-19.
Seven or eight races will be carded each day with the first race expeected to start around 1 p.m. (MDT). Admission will be $5 per person each day. The two days in Douglas will follow horse racing in Sonoita which runs ahead of Prescott.
"We are currently in the process of getting everything ready here," Valenzuela said. "We got many compliments on our grounds at our state inspection."
The main focus of the inspection Valenzuela said was the track surface, the stables, stalls and paddock area.
"It was more of a safety inspection than anything else," she said.
Horses have not run at the facility since 2016, however state officials were still impressed enough with its condition to allow the races this year.
Valenzuela has been general manager less than a year said she is always being asked by someone "when are the horse races returning?"
"I feel this is something that will be good for not only the community but also the county," Valenzuela said. "We have a lot of people down here who want to see horse racing continue. … We have a great track and we have the facility to do it."
According to Valenzuela available state funding has helped with the event. The grant was for $40,000. It takes an estimated $100,000 to host two days of racing.
When the last races were held at Cochise County Fairgrounds in 2016, an estimated 10,000 people attended over the two days. Valenzuela is hoping for those kind of attendance figures or more in 2019.
"We will not be licensing down here," she said. "Any horsemen that need to be licensed or get their horses ready to run. They'll either have to go to Turf Paradise or work something out in Sonoita. They can also do it online."
CLICK HERE for a condition book.