RACING THIS WEEK
FEATURES
SERVICES
Graded stakes propelled several horses into the AQHA Racing National Polls this week.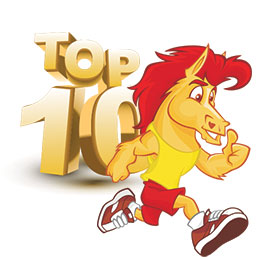 Remington Races Make Big Changes to AQHA Racing Polls
AMERICAN QUARTER HORSE ASSOCIATIONóJUNE 6, 2019ó
A slew of graded stakes on closing night at Remington Park propelled several horses into the AQHA Racing National Polls and resulted in Political Attraction gaining the top spot in the older-horse rankings and Uptowne Babe tying for the No. 1 position in the ranks of 2-year-olds.
The June 1 action in Oklahoma City included a decisive victory by Rogelio Marquez Jr. and Kathy Robinson's Political Attraction in the $280,680 Remington Park Invitational Championship (G1). It marked the third graded stakes win of the meet for the 4-year-old gelding by Apollitical Jess who earlier captured the Eastex Stakes (G2) and Sooner State Stakes (RG1). James Flores has been in the saddle for all three wins for trainer R.L. Rick Robinson.
The latest win moved Political Attraction up from a tie for fifth in the first poll of 2019 to a narrow margin over Apocalyptical Jess in second and Powerful Favorite, the top-ranked horse in the initial poll, in third. Also in the older-horse ranks, Apollitical Pence debuted in the poll at No. 4 after taking the Heritage Place Derby (G3) at Remington Park.
Among the 2-year-olds, the undefeated Trump My Record held the top position from the first poll but now shares it with Sam W. Green's homebred Uptowne Babe, winner of the $963,100 Heritage Place Futurity (G1) on Remington Park's biggest night of racing. Uptowne Babe is a Mr Jess Perry filly trained by Pedro Hernandez-Pulido and was ridden to victory by Rolando Raudales. The win gave her an edge over Trump My Record in earnings with $512,657 compared to $302,532. However, Trump My Record has the advantage with four wins, including two graded stakes, in four starts, while Uptowne Babe sports a still-sparkling record of two wins, two seconds and a third from five starts.
The next AQHA Racing Polls will be released the week of June 17, and voters will have plenty to digest by then, as the Ruidoso Derby (G1) and Ruidoso Futurity (G1) are set for this coming weekend with a bevy of futurities and derbies scheduled for the following weekend.
NATIONAL RANKINGS, 3-YEAR-OLDS AND OLDER
1. POLITICAL ATTRACTION (77)
2. APOCALYPTICAL JESS (74)
3. POWERFUL FAVORITE (73)
4. APOLLITICAL PENCE (65)
5. ZOOMIN FOR SPUDS (51)
6. EYE N CAPO (37)
7. LD IS BACK (28)
8. NEW NEWS (22)
9. RYANSMANONTHEMOON (17)
10. JESS PROVED YOUWRONG (15)
TERRIFIC FIRST DOWN (9), JESSIES FIRST DOWN (7), HAWKEYE (5), KAS TEMPTING (4), ADMIRAL STING (3), AS AND JS (3), THERMONUCLEAR ENERGY (2), CURLS HAPPY WAGON (1), GUNSMOKE B (1), VIVA LE DON (1).
NATIONAL RANKINGS, 2-YEAR-OLDS
1. TRUMP MY RECORD (85)
1. UPTOWNE BABE (85)
3. EC REVENGE (67)
4. PERRYS SECRET (45)
5. HONKY TONK DADDY (35)
6. TF SHEZ JESS DASHIN (34) 7. CHAYITO CARTEL (31)
8. HH GAILFORCE (27)
10. TDZ JET BLACK DOWN (20)
10. UNCLE D (20)
LOTA SHAKIN GOIN ON (10), RUNNER CHICK (6), FANCY PANTS DC (5), PA CHA CHING (5), PEPPER RYAN (4), RELENTLESS GUN (4), NO SANDBAGGIN (3), JESSE D (2), JOHN CARTER CASH (2), KOOCHI KOO (2).
* * * * * * * * * * * * * * * * *
The integrity of American Quarter Horse racing is of utmost importance to AQHA. As part of a multifaceted effort to ensure integrity, AQHA has instituted a policy concerning awards and publicity that makes horses with racing medication positives and horses trained by trainers with racing medication positives ineligible for the AQHA Racing National Polls. CLLICK HERE to read the complete policy.

* * * * * * * * * * * * * *

AQHA News and information is a service of the American Quarter Horse Association. For more news and information, follow @AQHARacing on Twitter, watch the AQHA Racing Newscast and visit aqha.com/racing.