RACING THIS WEEK
FEATURES
SERVICES
Erasmo Gasca's stardom really began to rise, as he won 29 races last year while getting the opportunity to ride in bigger profile races at Los Alamitos Race Course.

© Scott Martinez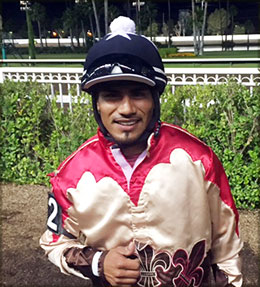 Gasca's Star Is On The Rise
LOS ALAMITOS, CA—JUNE 7, 2019—
Erasmo Gasca has been one of the best stories of the 2019 racing season. The jockey began his riding career in the fall of 2015, piloting the Quarter Horse Mighty Bad Girl to a fifth place finish on August 12. He smiled in the winner's circle at Los Alamitos for the first time in only this third career mount thanks to Building Wealth on October 10, 2015. Gasca added six victories in 39 mounts in the following year, and then continued with 12 wins in 69 mount in 2017.
After joining forces with trainer Matt Fales, Gasca's stardom really began to rise, as he won 29 races last year while getting the opportunity to ride in bigger profile races thanks to Martha Wells and Fales' talented racing stock.
"It starts with his work ethic," Fales said. "He was a new guy and I was looking for some help and we connected. He started helping me and he's built his way up. He shows up every morning ready to work and that's helped him get to know the horses better and better. He's always been pretty good at getting horses out of the gate."
"Matt gave me an opportunity and I've tried to make the most of it," The 27-year-old rider from Guanajuato, Mexico said. "We have a good working relationship. I'm at his barn early in the morning and I start to take horses out to gallop and exercise. The experience has helped me improve a lot as a rider and I just strive to get better each day. In this sport, you learn something new every single day."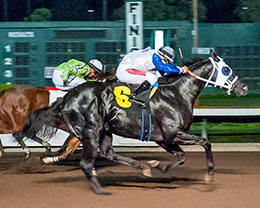 My Favorite Cartel, under jockey Erasmo Gasca winning the Town Policy Handicap at Los Alamitos Race Course.
© Scott Martinez
His breakthrough campaign has come this season. Gasca is currently the meet's second leading Quarter Horse pilot - only behind Jesus Rios Ayala - with 28 wins from 153 mounts for a solid win ratio of 15%. In addition, he's piloted 27 second place finishers and 25 third place finishers. He's been third or better 80 times this year. And he continues to ride better and better horses.
His winners this year have included talented 2-year-olds like Wells' multiple winner Tell Cartel and recent maiden winner Furyofthehuracan for trainer Sergio Morfin to notable aged runners like stakes veteran Chicks Fayvorite (also owned by Wells) and the Hector Magallanes-trained L Bar D Razle Dazle.
His winning ride aboard EG High Desert Farms' Corona Lake in the trials to the Grade 2 Robert Adair Kindergarten Futurity helped qualify the filly to the $361,000 final. He's won allowance races with Tres Delight for trainer Jose Flores and with My Favorite Cartel for Wells and Fales in the meet's fastest 300-yard time of :15.10.
His other allowance wins have come with Jazzy Icon and Eagles Policy. Gasca is still looking for his first stakes win of the year, but he did pilot the colt Red Hawk Cartel to a runner-up effort in the Grade 1 Los Alamitos Winter Derby and has hit the board in stakes with Cavuto, My Favorite Cartel and again Red Hawk Cartel, this time in the El Primer Del Ano Derby. His first ever stakes win came in 2018 when he rode My Favorite Cartel in the Town Policy Handicap.
The riders' career early on was slowed down by a couple of setback, including an injured clavicle two years ago. "He had two spells out where we lost him due to injury just as he was getting traction and momentum," Fales said. "He's doing well now and – knock on wood – I hope it continues."
Gasca just wants to keep on building upward. On Saturday night, Gasca will pilot a pair of 2-year-olds. He'll be on Wells' Favorite Foose in the sixth and on Victor Gomez's Hitters Last Swing in the eighth.
* * * * * ** * * * * * * *
Courtesy of www.losalamitos.com.