RACING THIS WEEK
FEATURES
SERVICES
Salute To First Responders - Police dog Vader gets his target during a K-9 demonstration. Corporal Edgar Valencia of Garden Grove Police Department watches over the demo.

© Scott Martinez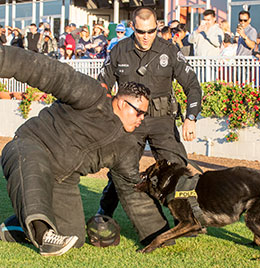 A Salute To First Responders Event Delivers Fun Community Event At Los Alamitos Race Course
LOS ALAMITOS, CA—JUNE 10, 2019—
Los Alamitos Race Course held its inaugural Salute To First Responders Event on Saturday night with over 1,200 people attending the free community event at the Katella racetrack.
A K-9 demonstration, free games, pony rides, fire truck rides, plus a Quarter Horse and Thoroughbred horse racing program made for a fun evening full of activities.
First Responders and various local agencies were celebrated and thanked in the winner's circle throughout the night for always being there for us in our time of need. State Senator Ling Ling Chang of the 29th California district provided certificates of recognition for each of the participating agencies. Los Alamitos Race Course also presented the agencies with an award. City of Cypress Mayor Stacy Berry, Stanton City Council member Alyce Van, and Los Alamitos City Council member Dean Grosse were among the dignitaries in attendance.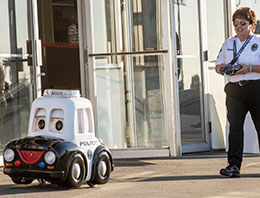 Salute To First Responders - Julie Marquez of Cypress Police Department with police assistant Donut.
© Scott Martinez
Among those recognized were representatives of the Cypress Police Department led by Chief Rod Cox. Community Services Officer Julie Marquez, the voice behind the popular PC the Patrol Car, accepted the recognition awards of the Cypress Police Department. Others recognized included Brian Barraza of CARE Ambulance, having served nearly two decades as an Emergency Medical Technician, Field Training Officer and Operations Manager. Brian was acknowledged for his ability to maintain composure and professionalism under pressure.
Corporal Edgar Valencia of the Garden Grove Police Department conducted a series of entertaining police K-9 demonstration in the winner's circle with the well-trained police dog Vader. First, Vader showed his obedience and detection skills. Then, Vader thrilled the crowd by displaying his power and ability in the criminal apprehension demonstration. Vader showed that he's one K-9 you don't want to mess with.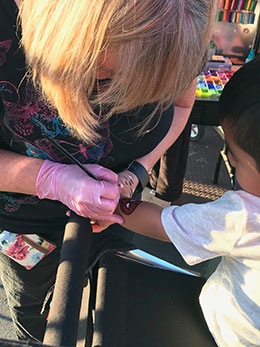 Salute To First Responders - Artist Susan Hubbard-Smith kept the children smiling with face and hand painting.
© Scott Martinez
Officer Dwayne Graham accepted the awards on behalf of the California Highway Patrol, while volunteers Neil Kurtizky and Erenea Perry were on hand representing the Orange County Sheriff's Department. Representatives from Orange County Fire were also recognized.
As for the activities, PC, the remote-controlled card, was a hit as he interacted with the children while dashing around the track's grandstand apron throughout the night. In addition, children of all ages were able to get a closer look at the Sheriff's Department Humvee before moving on to check out the CHP's classic 1961 Dodge Polaris and the 2016 Dodge Charger. CARE Ambulance/EMT demonstrated proper CPR technique to those in attendance.
Among the other highlights, the California Fire Museum was on hand with various eye-catching firetrucks parked at the front entrance of the track. Families were also able to climb aboard the firetruck to take a fun ride around the track's parking lot. California Fire Museum estimated that they had over 300 riders throughout the night. Many of the children also took home free plastic firefighter hats, while supplies lasted.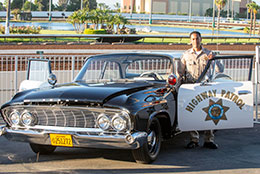 Salute To First Responders - California Highway Patrol officer Dwayne Graham proudly displays a classic patrol car.
© Scott Martinez
Inside the park, many of the top jockeys at Los Alamitos volunteered to enter the dunking booth and waited to see if anyone had the accuracy needed to hit the target and dunk the jock. With the city of Cypress having a great baseball tradition, it was not surprising to see many of the jockeys splash into the water after the target was hit with a perfect strike. It was all about smiles, not only at the dunking booth, but throughout the park. Face painter Susan Hubbard-Smith was probably the busiest person of all, as she had a steady line throughout the night. A couple of inflatable games, including a bungee basketball game, provided more fun to go around.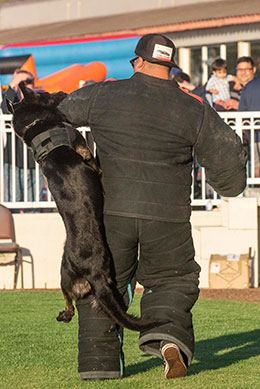 Salute To First Responders - Canine Police Dog Vader gets his target during a skills demonstration.
© Scott Martinez
As for a few side notes of the night, there was a large group from Milwaukee, Wisconsin that visited Los Alamitos Race Course on this night, specifically to see what this event was all about. The reason they attended? Nearly all of them worked in agencies that provide first responders services in Milwaukee. In the winner's circle after one of the earlier races of the night, Thoroughbred horse owner Danny Chavez presented a donation to one of the participating agencies.
"I wrote a check before I came to the track and if I was fortunate enough to win the race I decided I would make a donation to a First Responders group," Chavez said. "It was a thrill to win the race (with a horse named Wit And Wisdom) and it was made even more special to have a chance to share some of the winnings."
The staff at Los Alamitos Race Course has already started to make plans for a second Salute To First Responders event in 2020. For more information on Salute to First Responders, please call 714-820-2690 or visit losalamitos.com. Follow Los Alamitos Race Course on Twitter and Instagram @losalracing and on Facebook @losalamitosracecourse.
* * * * * ** * * * * * * *
Courtesy of www.losalamitos.com.