RACING THIS WEEK
FEATURES
SERVICES
Ruidoso Derby(G1) winner Apocalyptical Jess and Heritage Place Futurity(G1) winner Uptowne Babe remain atop the AQHA Racing Polls released today.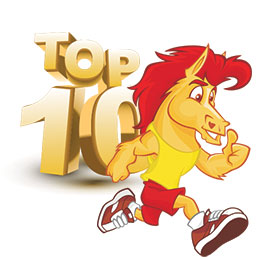 New Faces Join AQHA Racing National Polls
AMERICAN QUARTER HORSE ASSOCIATION—JULY 20, 2019—
Although the upper echelons of the AQHA Racing National Polls remained unchanged following a busy summer stakes schedule through Independence Day weekend, several new faces did emerge in the rankings after major victories.
In the older-horse ranks, Apocalyptical Jess further firmed his No. 1 ranking and remained solidly in that spot after his fifth win in as many starts this season in his trial for the Grade 1, $1,008,129 Rainbow Derby at Ruidoso Downs. Last year's All American Futurity (G1) winner and champion 2-year-old gelding put up the third-fastest time to advance to the July 20 final. He has already conquered the Remington Park Oklahoma-bred Derby (RG3) and Ruidoso Derby (G1) and eclipsed the $2 million earnings mark so far this year.
Among the newcomers in the older-horse poll are Katies Easy Moves, who jumped in at No. 6 after taking the $155,100 Vessels Maturity (G1) at Los Alamitos on July 7. Santander, who earned his third victory of the year in the $186,925 Firecracker Derby (G3) at Delta Downs on July 3, also made his poll debut at No. 10.
In the juvenile poll, Heritage Place Futurity (G1) winner Uptowne Babe retained the top spot, but three horses joined her in the top 10 for the first time this year. Flokie, winner of the $1,070,000 Ed Burke Million Futurity (G1) at Los Alamitos on June 23, came in at No. 4; Runaway Second Down, victor of the $700,293 Lee Berwick Futurity (RG1) at Delta Downs on July 6, took the No. 6 position; and Expedyte, who stretched his perfect record to four wins in four starts in the $308,335 Firecracker Futurity (G2) on July 4 at Delta Downs, took the No. 7 spot.
Prior to the next release of the AQHA Racing Polls in two weeks, voters and racing fans will get to see the Grade 1 Rainbow Derby and Futurity at Ruidoso Downs. Additionally, No. 3-ranked 2-year-old Trump My Record is entered in this Friday's trials for the TQHA Sale Futurity (RG2) at Retama Park.
NATIONAL RANKINGS, 3-YEAR-OLDS AND OLDER
APOCALYPTICAL JESS (89)
POLITICAL ATTRACTION (78)
APOLLITICAL PENCE (60)
POWERFUL FAVORITE (54)
EYE N CAPO (38)
KATIES EASY MOVES (36)
LD IS BACK (26)
ZOOMIN FOR SPUDS (25)
DANJER (19)
SANTANDER (12)
VALIANT TIBERIAS (11), JESS PROVED YOUWRONG (6), RARIN (6), STONE COLD LEADER (6), RYANSMANONTHEMOON (5), BH LISAS BOY (4), JESSTACARTEL (4), CDS WINE N DINE (3), SAN LORENZO CORONA (3), BV SHESLIKETHEWIND (2), COUNTRY BOY 123 (1), HE LOOKS HOT (1), JESS WAGON P (1), NEW NEWS (1).
NATIONAL RANKINGS, 2-YEAR-OLDS
UPTOWNE BABE (80)
FERNWEH (73)
TRUMP MY RECORD (64)
FLOKIE (45)
EC REVENGE (42)
RUNAWAY SECOND DOWN (40)
EXPEDYTE (28)
TF SHEZ JESS DASHIN (25)
CHAYITO CARTEL (24)
COLBY JAMES (21)
UNCLE D (11), PERRYS SECRET (9), HONKY TONK DADDY (7), HOTSEMPTING (7), DREAMS DIVINE (5), TIPSY GIRL B (4), DF MISCHIEVIOUS JESS (2), HH GAILFORCE (2), VALENTINA RELENTLESS (2), JESSES DASHAIR (1), RUNNER CHICK (1), TDZ JET BLACK DOWN (1).
* * * * * * * * * * * * * * * * *
The integrity of American Quarter Horse racing is of utmost importance to AQHA. As part of a multifaceted effort to ensure integrity, AQHA has instituted a policy concerning awards and publicity that makes horses with racing medication positives and horses trained by trainers with racing medication positives ineligible for the AQHA Racing National Polls. CLICK HERE to read the complete policy.
* * * * * * * * * * * * * *
AQHA News and information is a service of the American Quarter Horse Association. For more news and information, follow @AQHARacing on Twitter, watch the AQHA Racing Newscast and visit aqha.com/racing.