RACING THIS WEEK
FEATURES
SERVICES
Off major wins at Ruidoso Downs last weekend Uncle D andEagle Coast soar in AQHA's National Racing Polls.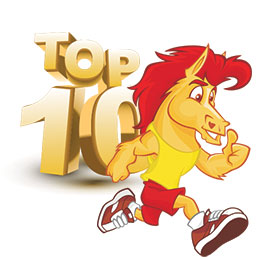 AQHA Racing Polls Steady as All American Trials Approach
AMERICAN QUARTER HORSE ASSOCIATION—JULY 25, 2019—
The latest AQHA Racing National Polls do not include any major changes in the top half of the rankings, but movement is likely over the next month, as the eyes of the American Quarter Horse racing world turn to Ruidoso Downs for the All American Futurity (G1) and All American Derby (G1).
Trials for the Futurity are set for August 16-17 with the Derby trials on August 18. A bevy of ranked horses, including the No. 1 horse in each poll, are expected to be in action and looking for a spot in the rich finals to be run over Labor Day weekend at the New Mexico track.
In the older-horse poll, Apocalyptical Jess, last year's All American Futurity winner and champion 2-year-old gelding, maintained his spot at the top over Eagle Coast. Those two horses have taken the Grade 1 derbies thus far at Ruidoso Downs, with Apocalyptical Jess scoring in the Ruidoso Derby and Eagle Coast capturing the Rainbow Derby.
The 2-year-old rankings also held steady at the top with Uncle D, winner of the Rainbow Futurity (G1), at No. 1 and Uptowne Babe, winner of the Heritage Place Futurity (G1) at Remington Park, at No. 2. Two newcomers entered the poll this week with Mister Riptide landing at No. 7 after winning the Zia Futurity (RG1) at Ruidoso on July 28 and Relentless Dynasty in a tie for No. 9 after taking the TQHA Sale Futurity (RG2) at Retama Park on July 27.
NATIONAL RANKINGS, 3-YEAR-OLDS AND OLDER
1. APOCALYPTICAL JESS (85)
2. EAGLE COAST (73)
3. POLITICAL ATTRACTION (71)
4.POWERFUL FAVORITE (55)
5. APOLLITICAL PENCE (53)
6. EYE N CAPO (35)
7. KATIES EASY MOVES (24)
8. LD IS BACK (17)
9. SANTANDER (15)
10. ZOOMIN FOR SPUDS (13)
DANJER (12), VALIANT TIBERIAS (9), HE LOOKS HOT (8), HOOKED ON JORDAN (5), STONE COLD LEADER (5), TARISH (3), WAGON CHICK V (3), CURLS HAPPY WAGON (2), NO MIRES A LA LUNA (2), SAN LORENZO CORONA (2), FIVE BAR STOLI (1), JESSTACARTEL (1), NEW NEWS (1).
NATIONAL RANKINGS, 2-YEAR-OLDS
1. UNCLE D (81) 2. UPTOWNE BABE (76)
3. FERNWEH (70)
4. TRUMP MY RECORD (55)
5. EC REVENGE (30)
6. RUNAWAY SECOND DOWN (25)
7. MISTER RIPTIDE (24)
8. PERRY SECRET (20)
9. (tie) EXPEDYTE (17)
9. (tie) RELENTLESS DYNASTY (17)
TF SHEZ JESS DASHIN (13), COLBY JAMES (11), HOTSEMPTING (11), DF MISCHIEVIOUS JESS (8), PITBULL (8), CHAYITO CARTEL (7), HONKY TONK DADDY (7), TDZ JET BLACK DOWN (6), WHY (4), DREAMS DIVINE (3), TEMPTED SEIS (2).
* * * * * * * * * * * * * * * * *
The integrity of American Quarter Horse racing is of utmost importance to AQHA. As part of a multifaceted effort to ensure integrity, AQHA has instituted a policy concerning awards and publicity that makes horses with racing medication positives and horses trained by trainers with racing medication positives ineligible for the AQHA Racing National Polls. CLICK HERE to read the complete policy.
* * * * * * * * * * * * * *
AQHA News and information is a service of the American Quarter Horse Association. For more news and information, follow @AQHARacing on Twitter, watch the AQHA Racing Newscast and visit aqha.com/racing.