RACING THIS WEEK
Additional Challenges

Current Nominees and Sustaining Payments
FEATURES
SERVICES
Ed Burke Million fourth-place finisher Apollitical Stone will be among 28 hopefuls in the John Deere Juvenile California Challenge trials at Los Alamitos.

© Scott Martinez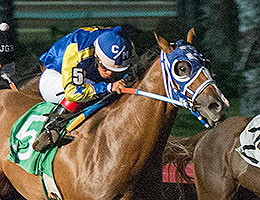 Ed Burke Million Finalists Headline John Deere Los Al Trials On Saturday
LOS ALAMITOS, CA—AUGUST 3, 2017—
Headed by Grade 1 Ed Burke Million Futurity finalists SC Vapor Trail and Apollitical Stone, 28 top juveniles will be in action when Los Alamitos Race Course hosts trials to the John Deere Juvenile California Challenge at 350 yards on Saturday night.
The ten fastest qualifiers will earn a spot in the John Deere California final on August 19 with the winner earning a berth to the John Deere Juvenile Challenge Championship to be held at Prairie Meadows in Iowa in the fall.
The sixth race kicks off the trials with Reliance Ranches' Oklahoma bred SC Vapor Trail, the sixth place finisher in the $1 million Ed Burke, rating among the top competitors in this event.
Trained by Mike Robbins, SC Vapor Trail began her freshman campaign at Remington Park before coming to Los Alamitos to win her Ed Burke Million trial. She'll be facing Jere Brinkerhoff and Kim and Les Sweeting's Fiery Fury in the opening heat. Trained by Justin Clark, Fiery Fury arrives at the Orange County track after running second in the Beehive Futurity last June at Laurel Brown.
In the second trial of the night, keep an eye on Denny and Sandy Weigt's Missmerizing. While she has yet to win, the Pyc Paint Your Wagon filly was a finalist for the prestigious Kindergarten Futurity this spring.
From trainer Monty Arrossa's stable, Missmerizing will look to continue her fine form, while hoping to make the second stakes final of her young career.
"A little luck will go a long ways," Arrossa said.
Hazel Dazel, who competed in the Ed Burke Juvenile Stakes in her last start, will join Missmerizing in this trial. The Oklahoma-bred sprinter will be looking for her first visit to the winner's circle, while looking to avoid some of the troubled starts that have proved to be her Achilles' heel.
Jose Flores and Steve Mickaelian's Apollitical Stone ran a tremendous race in the Grade 1 Ed Burke Million, as overcame a troubled start to finish fourth while earning over $60,000 in the process. The taletned Apollitical Jessgelding will headline the third division on Saturday night, but he'll have to be at his best in order to pull away from this contentious group.
Roman Figueroa, a winner of 912 Quarter Horse races during his time as a jockey at Los Alamitos, is now venturing into a Quarter Horse training career and will saddle recent Southern California arrival, Twisted Sifter. Owned by Ronnie Brooks Keller, the Arizona-bred colt Twisted Sifter lands here after finishing second and third in his previous Idaho-starts.
"I have been able to watch him in the mornings and he looks to be one of those horses that is always willing to put up a fight," said Figueroa of the horse that arrived here just two weeks ago. "He has a special spirit about him. My wife, Brenda, and I couldn't be more excited to have the opportunity to be training him."
Cesar De Alba, who began the week tied with Jesus Rios Ayala for the lead in the Quarter Horse jockey standings, will ride Twisted Sifter.
In the ninth and final race on Saturday, seven talented runners will be dueling down the straightaway looking to secure a spot in the John Deere final. The field will be headed by Carolyn and Ralph Fales' unbeaten Cowgirl N Up and 4 B Stables' Honeys Pop A Tac, a runner-up in his last outing. Trained by Matt Fales, the undefeated filly Cowgirl N Up will look to show her rivals that she's here for more than soaking up the beautiful California sun.
The daughter of Texas Icon won her the John Deere Juvenile Challenge at Turf Paradise with ease thanks to a wire-to-wire length victory. Cowgirl N Up and Fiery Fury are the only runners in the trials with two victories to their names.
The field will also feature the Adriana Aceves-trained El Remmy, a colt making his first start start, and Lee Vaughn's JJ Tough, which ran second in his most recent outing.
Courtesy of www.losalamitos.com.