RACING THIS WEEK
Additional Challenges

Current Nominees and Sustaining Payments
FEATURES
SERVICES
Condition books for the 2018 Bank of America Racing Challenge are now available.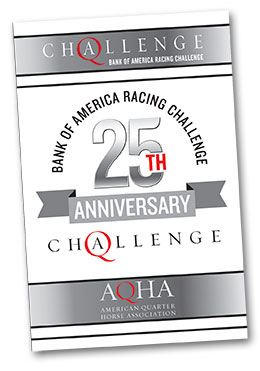 Challenge Condition Book Available
AMARILLO, TX—MARCH 23, 2018—
The 2018 Bank of America Racing Challenge Condition Book is now available.
Customers can email mreed@aqha.org or call the Challenge Hotline at 877-222-7223 to request a hard copy.
Customers can also view it at aqha.com/racing or CLICK HERE to download.
The Bank of America Racing Challenge this year celebrates its 25th anniversary; it has been a major source of quality racing for American Quarter Horses of all levels of ability, but especially for older horses.
This year, the Bank of America Challenge Championships are slated for November 17 at Los Alamitos.
AQHA News and information is a service of the American Quarter Horse Association. For more news and information, follow @AQHARacing on Twitter, watch the AQHA Racing Newscast and visit aqha.com/racing.