RACING THIS WEEK
Additional Challenges

Current Nominees and Sustaining Payments
FEATURES
SERVICES
The contest ill be part of AQHA Bank of America Challenge Championship Night with NHC Berths.

© Courtesy AQHA Racing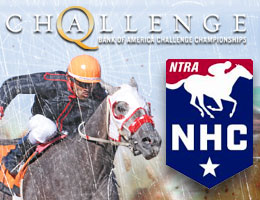 Los Al To Host Live Money On-Track Handicapping Contest As Part of AQHA Challenge Championships
LOS ALAMITOS, CA—OCTOBER 12, 2018—
Los Alamitos Race Course will offer a cash prize and as many as three seats to the 2019 National Handicapping Championship in Las Vegas with a live money handicapping contest on Bank of America Challenge Championship Night on Saturday, November 17.
Cost to enter is $400. Of that amount, $100 will be placed in the contest prize pool with the remaining funds going towards a live-money wagering card. Contestants must enter prior to teh start of the third race on Bank of America Challenge Night. Players can begin entering the contest starting at 4 p.m. on the day of the contest or on Friday night, November 16. Players can also enter the contest online here or by visiting www.losalamitos.com.
Tournament races will include the entire card at Los Alamitos with permitted wagers including win, place, show, exactas, trifectas and daily double. Each entry must bet at least $50 per race on six races during the contest to be eligible for prizes, but there is no wagering limit.
The player with the highest bankroll at the end of the day will be declared the winner and the player with the second highest bankroll will be the runner-up. The winner will receive 50% of the prize pool, which will be capped at $10,000. The remaining payoffs: 20% (2nd place), 15% (3rd place), 7.5% (4th place) and 7.5% (most money wagered).
Three NHC berths will be up for grabs if the contest has more than 60 entrants. If less than 60, two NHC spots will be on the line. CLICK HERE for complete contest rules or visit www.losalamitos.com and any questions, contact larace@losalamitos.com or phone 714-820-2690.