RACING THIS WEEK
Additional Challenges

Current Nominees and Sustaining Payments
FEATURES
SERVICES
Horsemen and women are encouraged to attend the AQHA Racing Committee meeting at 2018 Challenge Championships..

© Courtesy AQHA Racing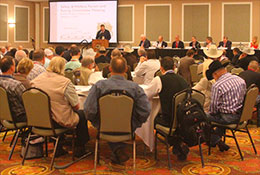 Hot Button Topics Set For Racing Conference Panel Discussions During Challenge Championships
AMERICAN QUARTER HORSE ASSOCIATION—OCTOBER 25, 2018—
Horsemen and women have a valuable opportunity during the upcoming Bank of America Challenge Championships and Racing Conferenced to get educated on several of the hottest topics happening in the racing industry.
At the AQHA Racing Committee meeting on Friday, November 16, there will be very important industry updates, as well as panel discussions from a number of experts.
The industry updates includes experts such as Ed Martin, with the Association of Racing Commissioners International; Dan Fick, with the Racing Officials Accreditation Program; and Dr. Dionne Benson, with the Racing Medications and Testing Consortium.
There will be a panel discussion on several important topics:
The Pursuit of Safety in Racing, led by Terry Meyocks (Jockeys' Guild), Steve Koch (NTRA) and Rick Baedeker (CHRB).
Discussion of Technology for Detecting Performance-Enhancing Drugs, led by Al Kind (Texas A&M), Petra Hartmann-Fischback (Industrial Labs) and Dr. Dionne Benson (RMTC).
Microchipping: Emerging Technology in the Identification of Horses, led by Chris Dobbins (InCompass Solutions) and Jeff Salmon (CHRB).
ARCI Recommended Penalties: Are Jurisdictions Imposing Uniform Rulings? , led by Rick Baedeker (CHRB), Kelly Cathey (OHRC) and Ed Martin (ARCI).
Horsemen and women are encouraged to attend this educational opportunity. The Racing Committee meeting is open to everyone, but registration is required.
CLICK HERE for additional information on conference registration and seating for the Bank of America Challenge Championship night.
* * * * * * * * * * * * * *
AQHA News and information is a service of the American Quarter Horse Association. For more news and information, follow @AQHARacing on Twitter, watch the AQHA Racing Newscast and visit aqha.com/racing.