RACING THIS WEEK
Additional Challenges

Current Nominees and Sustaining Payments
FEATURES
SERVICES
Rillito Park has to suspended it current race meet to to concerns surrounding COVID-19.

© Coady Photography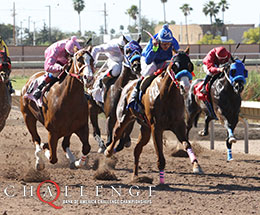 Rillito Park Regional Challenge Finals On Hold Due To COVID-19 Concern
TUCSON, AZ—MARCH 14, 2020—
AQHA Challenge officials notified finalists to the Bank of America Rillito Championship Challenge and the John Deere Rillito Juvenile Challenge on Friday that due to concern surrounding COVID-19 Rillito Park to suspended it current race meet.
In the event that Rillito Park is able to resume racing at a date in the immediate future, it is AQHA's intention to have the track proceed in hosting the finals to their two regional races that were scheduled for Saturday, March 21st.
"We want you to have an opportunity to run, and to seek a berth to the AQHA Bank of America Challenge Championships in October," AQHA Manager of Racing said in an email to participants.
In the event the remaining Rillito Park 2020 race dates are not conducted, then the purse(s) will be distributed to the eligible finalists in accordance to Challenge Conditions.
The AQHA Challenge Condition Book can be found at AQHA.com, or by CLICKING HERE.
For additional information the Challenge Hotline can be reached at 877-222-7223.