RACING THIS WEEK
Additional Challenges

Current Nominees and Sustaining Payments
FEATURES
SERVICES
Indiana Grand will host the 2022 Bank of America Challenge Championships.

© Coady Photography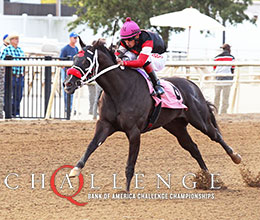 Bank of America Quarter Horse Championships Coming to Indiana Grand in 2022
SHELBYVILLE, IN—FEBRUARY 8, 2021—
For the first time, the elite racing American Quarter Horses from around the world that gather for the Bank of America Challenge Championships will step onto that stage in the state of Indiana, as Indiana Grand Racing & Casino in Shelbyville, Indiana, welcomes the event in 2022.
"We are thrilled to partner with Indiana Grand to host this championship event," said AQHA Chief Racing Officer Janet VanBebber. "This racetrack and its leadership have welcomed horsemen and promoted American Quarter Horse racing, and we look forward to the opportunity to host the 2022 Bank of America Challenge Championships at a new and growing venue."
Indiana Grand will become one of only 10 racetracks in history to host the Bank of America Challenge Championships. The program, operated by the American Quarter Horse Association, provides greater opportunity to all racing American Quarter Horses. It offers stakes races held in the United States, Canada, Mexico and Brazil, and the horses that qualify through these races are invited to the season-ending Challenge Championships. There are races offered for older horses, fillies and mares, derby and futurity horses, as well as distance specialists. The program pours almost $3 million in purses into the industry every year.
In the past two years, five of the AQHA racing champions earned their championship titles with significant help from the horses' efforts in the Challenge program, with these collective horses earning more than 20 percent of their career earnings from Challenge races.
Indiana Grand has seen its product grow year-over-year, with a 5.3 percent increase in purses and a 35 percent jump in handle in the past five years. The track had the fifth-highest average handle per race for all Quarter Horse tracks in the country at $110,819.
In 2021, the racetrack will add two regional Bank of America Challenge stakes races to its program, including the $30,000-added John Deere Indiana Juvenile Challenge and the $20,000-added Merial Indiana Distaff Challenge.
"Being able to expand our American Quarter Horse program to include the Bank of America Challenge elevates our entire racing operations in Indiana," said Eric Halstrom, Indiana Grand vice president and general manager of racing. "This challenge will shine a spotlight on our ever-growing American Quarter Horse industry and grant many of our local horsemen the opportunity to participate on a national level. We are excited to partner with AQHA on this endeavor and look forward to welcoming new American Quarter Horse participants and fans into Indiana for the first time in the history of the Challenge."
To learn more about the Bank of America Racing Challenge, CLICK HERE.
About the Sponsor
Bank of America, the official financial services provider of AQHA, is proud to sponsor the Bank of America Racing Challenge. Bank of America has been a major supporter of AQHA and the programs AQHA members enjoy since 1988. Learn more about Bank of America.
* * * * * * * * * * * * * * * * * * *
Indiana Grand Racing & Casino, which is owned and operated by a subsidiary of Caesars Entertainment Corporation (NASDAQ: CZR), holds multiple awards for customer service, entertainment, gaming, dining, and diversity. Located in Shelbyville, Ind., Indiana Grand features more than 2,100 of the latest slots and table games in addition to a one-mile dirt racecourse and a seven-eighths mile turf course providing live Thoroughbred and Quarter Horse racing each year. Simulcast and sports wagering is also offered year-round at Winner's Circle Race Sports Pub located on the casino floor as well as a Winner's Circle Race Sports Pub located in Clarksville, Ind. For more information, please visit
www.IndianaGrand.com
.
Must be 18 or older to wager on horse racing at racetracks and 21 or older to gamble at sports books and casinos. Know When To Stop Before You Start.® Gambling Problem? Call 1-800-9-WITH-IT (1-800-994-8448) ©2020 Caesars License Company, LLC.