RACING THIS WEEK
FEATURES
SERVICES
Home
>
Preview Racing
>Moonie Blues, Matilda Czech Looking For Their G1 Score In Saturday's Los Alamitos Winter Derby
Wild West Futurity winner Moonie Blues will face a strong field in the Grade 1 $215,450 Los Alamitos Winter Derby at 400 yards on Saturday night.

© Scott Martinez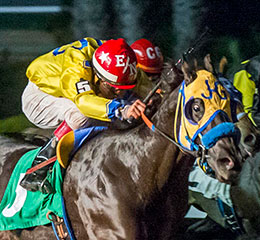 Moonie Blues, Matilda Czech Looking For Their G1 Score In Saturday's Los Alamitos Winter Derby
LOS ALAMITOS, CA--FEBRUARY 8, 2018--
Lisa Anderson's Moonie Blues and
EG High Desert Farms
' Matilda Czech, a pair who posted second place finishes in major futurities last year, now aim for a major score of their own when they headline a field of 10 in the Grade 1, $215,450 Los Alamitos Winter Derby at 400 yards on Saturday night.
Trained by Jaime Gomez, Moonie Blues won the Wild West Futurity here in 2017 against horses from the Intermountain and Northwest regions plus Arizona, Nevada and Canada. She then proved herself to be among the nation's top 2-year-olds, as she posted a strong second to PCQHRA Horse of the Year J Fire Up in the Grade 1 Los Alamitos Two Million Futurity, which is this track's richest race.
Named the 2017 Intermountain Horse of the Year at Los Alamitos, the Freighttrain B filly was one of the marquee names in the Winter Derby trials. She left the gate nicely in her 400-yard heat and had a big lead, but got caught in the final 50 yards by the late flying Yanque, who will now break alongside of her in the Winter Derby final. Moonie Blues will start from post number three, while Yanque will leave the gate from post two on Saturday night.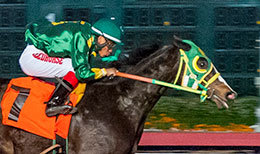 Multiple Grade 1-placed will be looking for her first Grade 1 win in Saturday's $215,450 Los Alamitos Winter Derby at Los Alamitos Race Course
© Scott Martinez
Matilda Czech won her Winter Derby trial, which is not surprising considering that she's a perfect four for four in Grade 1 stakes trials. Her best effort came in the Grade 1 Golden State Million Futurity in one of the races of the meet at Los Alamitos in 2017.
Matilda Czech and the aforementioned J Fire Up hooked up at the midway point of the Golden State Million and the two battled from there with only an eyelash separating them at the wire. In the end it was J Fire Up first to the wire with Matilda Czech right behind her. The Fast Prize Cartel filly has continued to be excellent on the racetrack.
She won her Los Alamitos Two Million Futurity and was a solid fourth in the final. She took control early on in her Winter Derby trial and finished a half-length ahead of rivals while posting the eighth fastest qualifying time for her new trainer Lorenzo Campuzano. To be ridden by Cruz Mendez, Matilda Czech will start from post number five.
Fortuna Properties Inc.'s Ditto Head enters the Winter Derby final as the fastest qualifier after winning his trial in a time of :19.77 . In the process, Ditto Head stayed unbeaten in trial races, as he's three for three in such races. It's in the finals that he'll look to improve, as he's finished out of the money in his previous two stakes final. He's also one of four Los Alamitos Two Million Futurity graduates - along with Moonie Blues, Matilda Czech, and Jess My Kiss - that will be in the starting gate in the Winter Derby final on Saturday night.
Bred by Alession/Brown/Davies LLC and raised at Fred Scane's ranch in Temecula, California, Ditto Head won a strong Winter Derby trial that also featured the second and third fastest qualifiers. Steve Burns' Ray Donovan finished with the second fastest time, while J. Garvan Kelly and Nancy Yearsley's Fenian Faith crossed the finish line with the third fastest clocking.
"I think (his trial race) will give him some confidence because he didn't break well and he had to go up through the horses," trainer Mike Casselman said. "(Jockey Cesar Gomez) said he just dug in and went to the front."
Gomez will pilot Ditto Head from post number nine.
Ray Donovan, a full-brother to 2015 All American Futurity finalist Crooked Path, will make his stakes debut in the Winter Derby final. He had previously finished second and third to the Grade 1 stakes placed runner Call Me Cole in trials to the Golden State Million Futurity and Los Alamitos Two Million Futurity. Immensely talented, the son of Favorite Cartel will have leading rider Jesus Rios Ayala up for trainer Paul Jones.
Trainer Juan Aleman will be busy saddling three horses in the Winter Derby final. Aleman trains the Apollitical Jess filly Fenian Faith and also qualifiers Fire And Sass, the Robert Adair Kindergarten Futurity winner for JGA Racing Stables, and Twenty One Gunz, a trial winner for owner Link Newcomb. Twenty One Gunz, a gelding by First Moonflash, will start from post number one.
Owned by Randy Dickerson and trained by Monty Arrossa, CM Boom Shakalaka posted the fourth fastest qualifying time after scoring a half-length win over Fire And Sass in his local debut in the Winter Derby trials.
"He kind of broke into the side of the gate, but he really came around at the end," said Arrossa of CM Boom Shakalaka. "Nick Lowe trained him (in his previous starts) and they've done a good job with the horse. They sent him down here and they made my job easy. All I've had to do is keep him happy. I always worry about horse's first start here. Usually our horses run a little better second time under the lights. Hopefully that happens with this horse."
Martha Wells' Yanque, trained by Matt Fales, is one to watch. He had the fastest qualifying time to the Wild West Futurity last year, but he was among several horses that had a very troubled start in the final and could never contend. In the Winter Derby trials, Yanque was fourth early on but he picked up speed after the first 100 yards and caught the talented Moonie Blues to win the race. Ramon Sanchez will ride him from post number two.
"It feels amazing to have the horse come back after that rough race and run strong against Moonie Blues, who everybody has a ton of respect for," Fales said.
Here's the field to the Los Alamitos Winter Derby in post-position order:
Twenty One Gunz
Yanque, Moonie Blues
Jess My Kiss
Matilda Czech
Ray Donovan
Fenian Faith
Fire And Sass
Ditto Head
CM Boom Shakalaka
Courtesy of www.losalamitos.com.