RACING THIS WEEK
FEATURES
SERVICES
The 38th Annual Heritage Place Winter Mixed Sale kicks of today (Thursday) in Oklahoma City.

© Amanda Glidden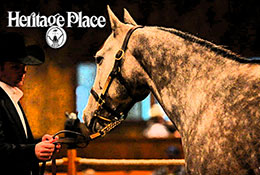 38th Heritage Place Winter Mixed Sale to Kick Off Today
OKLAHOMA CITY, OK—JANUARY 19, 2017—
The 38th Annual Winter Mixed Heritage Place Sale will get begin today (Thusday) in the company's sales pavilion located at 2829 South MacArthur in Oklahoma City. The sale company will offer 915 head of broodmares, short yearlings, stallions and horses of racing age over three days.
"We are very excited about the offering in this sale, the catalog is stacked with black type and quality from start to finish. I believe everyone will find something in this sale," Heritage Place General Manager Spence Kidney said.
The opening session of the 2017 Winter Mixed Sale kicks-off promptly at 10:00 a.m. and will feature Hips 1 thru 100. Session two, Bob Moore Farms, LLC Agent for Sam green Herd Reduction will be feature Hips 101 thru 110 and Thursday's final mixed session will feature Hips 111 thru 298.
Day 2 (Friday) will include Hips 299 thru 597. Day 3 (Saturday) will offer Hips 598 thru 895 as a mixed session and the closing session Hips 896-915 will feature DLR Ranch Agent for John Dee Spicer, Trustee. Friday and Saturday's sessions will also both begin at 10:00 a.m.
AQHA will host a "Hispanic Open Forum" at 8:30 am. prior to the start of Friday's session. The forum will recognize the impact that Hispanic involvement has on the American Quarter Horse racing industry, and to allow members and horsemen to discuss how the Association can better serve its racing community. For additional information CLICK HERE.
The Oklahoma Quarter Horse Racing Association (OQHRA) will host a reception in conjunction with the "Race Trackers Reunion" following Friday's session.
The Winter Mixed catalog is available for download at the Heritage Place website www.heritageplace.com or through the equineline.com Sale App for iPad users.
For additional information contact Heritage Place Sale Company at 405.682.4551.
Preliminary sales results can found in the Auction Leaders section on StallioneSearch.com following each day's session.