RACING THIS WEEK
FEATURES
SERVICES
The 20th Annual TQHA Yearling Sale will be conducted Friday and Saturday in the Exposition Hall at the Freeman Arena in San Antonio, Texas.

© Cover photos by TRACK Magazine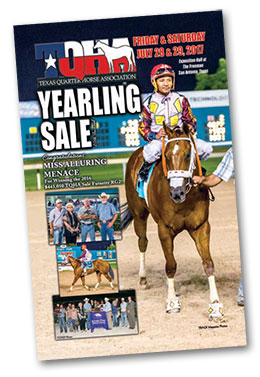 20th Annual TQHA Yearling Sale Kicks Off Today
SAN ANTONIO, TX—JULY 28, 2017—
The 20th annual TQHA Yearling Sale will get underway today (Friday) with the first lot selling at 10:30 a.m.
The annual two-day sale features 304 Texas-Bred yearlings and will again be held in the Exposition Hall at the Freeman Arena in San Antonio, Texas.
"I think it is going to be a great sale. The 2017 TQHA Yearling Sale catalog brags of really great horses with promising potential! This may be one of our strongest catalogs yet," TQHA Executive Director Val Clark said this week.
Sale action begins promptly each day at 10:30 a.m. each day with Hips 1 thru 152 to offered today (Friday) and Hips 153 thru 304 selling Saturday.
All yearlings who pass through the TQHA Yearling Sale ring on Friday and Saturday are eligible for nomination to the 2018 TQHA Sale Futurity(RG3).
The 2017 TQHA Yearling Sale catalog is available online by CLICKING HERE.
Horsemen and women can download the catalog to their mobile devices by visiting Robin Glen Pedigrees.
Sale goers are urged to attend the races at nearby Retama Park for the "Texas Summer Showdown" tonight (Friday) and again on Saturday night for the $435,680 TQHA Sale Futurity(RG3) and the $156,600 Retama Park Derby. First post is set for 6:45 p.m. each night.
The sale site contact phone in San Antonio is (512) 647-6203 and the sale site fax number is (512) 367-5673. Sale office hour are 8:30 a.m. to 5:00 p.m on Friday and Saturday ONLY.
The DoubleTree by Hilton Hotel San Antonio Airport is the official TQHA Sale host hotel. If rooms are still available a $99 TQHA Rate has been secured for sale attendees. For reservation call 210.368.2424.
For additional information visit the TQHA website tqha.com or call (512) 458-5202.