RACING THIS WEEK
FEATURES
SERVICES
The 2017 Heritage Place Yearling Sale kicks off today (Thursday) in Oklahoma City.

© Heritage Place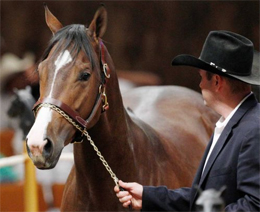 Heritage Place Kicks Off 39th Annual Yearling Sale Today
OKLAHOMA CITY, OK—SEPTEMBER 21, 2017—
The 39th annual Heritage Place Yearling Sale, featuring 811 American Quarter Horses this year, will get underway today (Thursday) and continue through Saturday.
The first session begins promptly at 10:00 am today (Thursday) with hips 1 through 271.
Friday's session features hips 272 through 541 and Saturday's session concludes with hips 542 through 811. The auction also starts promptly at 10:00 am on Friday and Saturday.
Immediately following the Friday's session the OQHRA will host a reception at the Restaurant and Club.
A complete online version of the 2017 yearling catalog, including horse, consignor, sire and dam indexes, is available by CLICKING HERE.
The September Yearling catalog is also available through the RGP Catalog App for both Apple and Android phones and tablets. A Catalog App tutorial can be viewed by CLICKING HERE.
The free RGP Catalog App can be downloaded from www.robinglenn.com or by searching for "RGP Catalog App" in the Apple App Store.
Horsemen and women are urged to bring printed catalogs they received in the mail with them.
For additional sale information call the Heritage Place Sale Company at 405.682.4551 or visit www.heritageplace.com.
Preliminary results, including hip-by-hip information, can be found each night following the sale in the StallioneSearch.com's "Sales Section" under AUCTION LEADERS.