RACING THIS WEEK
FEATURES
SERVICES
Consignment forms for the 2018 Ruidoso Horse Sales are now available.

© Speedhorse Magazine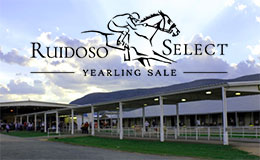 Consignments Forms Available for 2018 Ruidoso Horse Sales
RUIDOSO DOWNS, NM—APRIL 12, 2018—
Consignment forms are available for all three 2018 Ruidoso Horse Sales.
The New Mexico-Bred Thoroughbred and Quarter Horse Sale is set for August 17 and 18th. This sale is open only to QH and TB yearlings that are registered New Mexico-Bred. Entry fee is $600 for both breeds and the entry and withdrawal deadline is May 1.
The Select Quarter Horse Foal In Utero Sale is set for Saturday, August 18. Each entry will be subject to review and consideration of acceptance based on donor mare's pedigree. The recipient mare as well as its foal in utero will be sold as a unit. The entry fee of $600 is due with entry and will be refunded with no accepted. Entry and withdrawal deadline is May 15.
The Select Quarter Horse Yearling Sale is set for Friday, August 31 thru Saturday, September 2. Quarter Horse yearlings will be selected by a review committee based on conformation and pedigree. Consignors will be notified if their entry has been accepted approximately one month after the deadline. Triple Crown nominated yearlings are given preference. The consignment fees for Triple Crown nominated yearlings is $500; for non‐nominated yearlings ‐ $1,000. All fees will be refunded on entries not accepted for the sale. Entry and Withdrawal deadline is May 15.
Consignment forms and consignor contracts for each sale can be found on the company's website or by CLICKING HERE.
For additional information visit the website at ruidososelectyearlingsale.com or call 575 378-4474.