RACING THIS WEEK
FEATURES
SERVICES
The 14th annual Los Alamitos Equine Sale will be helding Saturday and Sunday (Oct. 6-7) at Los Alamitos Race Course.

© Los Alamitos Equine Sale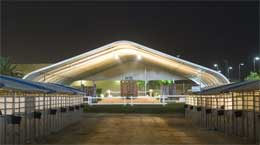 14th Annual Los Alamitos Equine Sale Set To Kick Off Saturday and Sunday
LOS ALAMITOS, CA—OCTOBER 1, 2018—
All is set for the 14th annual Los Alamitos Equine Sale to be held Friday and Saturday, October 6 and 7, starting at 10 a.m. (PDT) on both days at the beautiful sale grounds facility located adjacent to Los Alamitos Race Course.
The Los Alamitos Equine Sale catalog will feature 319 hips, as of this writing, of which 285 will be yearlings. In addition, 29 Quarter Horse mares, two Thoroughbred mares, and three aged Quarter Horses will also be featured.
The sale is a joint venture between Ed Allred, the sport's all-time leading breeder and the owner of Los Alamitos Race Course, leading breeders Burns Ranch and the late John Andreini, one of Quarter Horse racing's all-time great breeders. The Pacific Coast Quarter Horse Racing Association manages the Equine Sale.
The Los Alamitos Equine Sale has a tremendous tradition of graduates. They include current stakes winning stars like champion and millionaire J Fire Up, stakes winners Powerful Favorite and Kiddy Up Cowgirl, major stakes finalist Mister Appolitical, Tac Me Up, Delayed Steal and Striver.
Past sale graduates include the likes of All American Futurity winner No Secrets Here and champions FDD Dynasty, Moonist, Walk Thru Crystal, Flame N Flash, and Five Bar Cartel, plus major stakes winners Worth Doing, Foose Cash SR, Revv Me Up, New Look, Old Girl, Oatman, West Coast Hawk, Hard Hitting, Hot Hitter, Terrific Synergy and many more.
The catalog includes runners sired by Walk Thru Fire, Favorite Cartel, First Down Dash, Corona Cartel, Foose, Kiddy Up, Apollitical Jess, Pyc Paint Your Wagon, FDD Dynasty, One Famous Eagle, One Sweet Jess, Separatist, Seperate Interest, Stel Corona and more.
A complete online version of the 2018 Los Alamitos Equine Sale catalog, including horse, consignor, sire and dam indexes, is available by CLICKING HERE.
Printed copies of catalog are available at the sale, as well as a downloadable iPad version is available on the RGP Catalog App.
The RGP Catalog App is available for both Apple and Android phones and tablets. A Catalog App tutorial can be viewed by CLICKING HERE.
The free RGP Catalog App can be downloaded from www.robinglenn.com or by searching for "RGP Catalog App" in the Apple App Store.
Please visit losalamitosequinesale.com for sale videos and more or call 714-236-1755 for additional info.
Preliminary sale results for Saturday and Sunday's sessions can be found on StallioneSearch.com's SALE SECTION shortly after the close of each day's sale.
* * * * * * * * * * * * * * *
Courtesy of www.losalamitos.com.