RACING THIS WEEK
FEATURES
SERVICES
The 40th Heritage Place Fall Mixed Sale will be held November 2-3 in Oklahoma City, Oklahoma.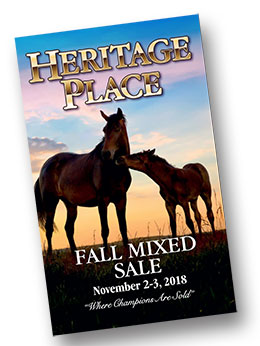 40th Annual Heritage Place Fall Mixed Sale Catalog Available Online
OKLAHOMA CITY, OK—OCTOBER 9, 2018—
Horsemen and women can now download the 2018 Heritage Place Fall Mixed Sale Catalog online.
The 40th annual fall sale, scheduled for November 2-3 at the Heritage Place Sales pavilion in Oklahoma City, will offer 537 head.
"We have another strong set of horses consigned to the fall sale," Spence Kidney, Heritage Place General Manager said.
As usual, the Heritage Place Fall Mixed Sale will feature an assortment of broodmares, broodmare prospects, horses of racing age, barrel racing prospects, stallions and stallion prospects plus weanlings and yearlings.
A complete online version of the 2018 Fall Mixed catalog, including horse, consignor, sire and dam indexes, is available by CLICKING HERE.
The annual Pre-Sale Party hosted by Heritage Place will begin at 5 p.m. on Thursday, November 1.
Session 1, Hips 1 thru 138 featuring Quarter Horse yearlings, will begin at 10 am Friday (Nov. 2). Sessions 2, Hips 139 thru 268, will begin immediately following the previous session. The third and final session, Hips 269 thru 537 will be begin at 10 a.m. Saturday (Nov. 3).
Printed copies of catalog will be mailed shortly as well as a downloadable iPad version is currently available on the RGP Catalog App.
The RGP Catalog App is available for both Apple and Android phones and tablets. A Catalog App tutorial can be viewed by CLICKING HERE. If you have already downloaded the catalog on the App, horsemen and women need to tap on Check For Updates to get the newest version.
The free RGP Catalog App can be downloaded from www.robinglenn.com or by searching for "RGP Catalog App" in the Apple App Store.
For additional sale information call the Heritage Place Sale Company at 405.682.4551 or visit www.heritageplace.com.