RACING THIS WEEK
FEATURES
SERVICES
Lazy E Ranch's Heritage Place Fall Mixed Sale consignment will include eight sprinting Thoroughbred mares.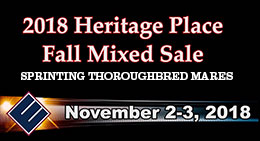 Eight Sprinting Thoroughbred Mares Features in Lazy E Ranch's Heritage Place Fall Consignment
GUTHRIE, OK—OCTOBER 25, 2018—
Lazy E Ranch will offer eight carefully select sprinting Thoroughbred mares in next week's 2018 Heritage Place Fall Mixed Sale.
Sprinting Thoroughbred mares in the consignment include:
Hip 219 Count The Tears TB (Storm Boot - Little Dish)
Hip 275 Scoring Chick TB (Even The Score - Maid Of Manila)
Hip 288 Laser Cat TB (Lion Heart -Oceane Music [FR])
Hip 359 Our Girl Magic TB (Belong To Me - Magic Weapon)
Hip 466 Vukovar TB (Forest Wildcat - Nyanza TB)
Hip 475 Wisestar TB (Henny Hughes - Star Of Broadway)
Hip 478 Rockin Regent TB (Gold Re gent - Rocket Launch)
Hip 480 Cafe Pacific TB (Gold Legend - Coyote Café)
They also have yearlings in the sale by leading Quarter Horse sires Walk Thru Fire (3), One Famous Eagle, Tempting Dash and Kiss My Hocks (2).
Quarter Horse champions as Easy Jet, Dash For Cash, Florentine, Cash Rate and Rule The Deck are all out of sprinting Thoroughbred mares. Leading Quarter Horse female lines that are sprinting Thoroughbred mares or their dams were sprinting Thoroughbred mares include Runaway Wave, Sizzling Lil, Trippy Dip (TB), Maroon (TB) , Cherry Lake (TB), Esters Little Klu (TB) and Painted Bug.
CLICK HERE to watch a video that spotlights these mares blazing speed.
To view the complete Lazy E Ranch 2018 consignment to the Heritage Place Fall Mixed Sale, including broodmares, yearlings and horses of racing age, CLICK HERE.
For more information about Lazy E Ranch, visit www.lazyeranch.net.