RACING THIS WEEK
FEATURES
SERVICES
TQHA will live stream their 2019 Yearlinga and Horses of Training Sale for the first time this year.

© Sale Photo Courtesy TRACK MAGAZINE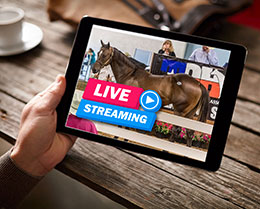 TQHA To Offer Live Video of 2019 Yearling and Horses of Racing Age Sale
ELGIN, TX—MAY 29, 2019—
The 2019 TQHA Yearling Sale in San Antonio, July 26 and 27, will be shown via live streaming for the first time this year. Patrons who cannot attend the annual sale will be able to watch from their computers, laptops and PDAs.
Also for the first time the annual sale will offer a "horses-of-racing-age" session.
"Over the years we have had numerous requests regarding live streaming the sale," TQHA Executive Director Val Clark said this week. "I'm happy to say through the sponsorship of Cox Ranch and Granada Farms we will provide this new service to our customers."
Horses will be available for inspection at The Exposition Hall at The Freeman, 3201 East Houston Street in San Antonio beginning July 25.
While printed catalogs for the 2019 sale will be available sometime next month, the catalog will also be available for download through RGP Catalog App. Search for RGP Catalog App on iTunes or Google Play.
Watch for additional information prior to the sale on how to connect to the "Live Streaming" or visit the association's website at tqha.com/racaing/taqha-yearling-sale/.
A schedule of the sale activities will be published next month.
For additional information call (800) 945-6157 or (512) 458-5202.