RACING THIS WEEK
FEATURES
SERVICES
Consignments for the 2019 QHRAI Speed Sale in Indianapolis, Indiana.

© Courtesy QHRAI Speed Sale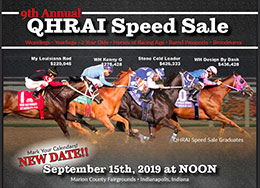 Consignments Due July 1 for 9th Annual QHRAI Speed Sale
INDIANAPOLIS, INóJUNE 5, 2019ó
Consignments are due Monday July 1 for the 9th Annual QHRAI Speed Sale.
The annual sale, for weanlings, yearlings, 2-year-ols, horses of racing age, barrel prospects and broodmares, will be held Saturday, September 15th at the Marion County Fairgrounds in Indianapolis, Indiana.
Limited to 50 head, Indiana-Bred yearlings have fist preference followed by horses of racing age. CLICK HERE to download complete information on the sale and a consignment form.
A $5,000 bonus will be paid to the consignor of the sale graduate that earns the most money racing in Indiana in 2020. The Speed Sale Stakes, a 2-year-old stakes race exclusively for horses that go through the QHRAI Speed Sale ring, will be offered in 2020 (QHRAI reserves the right to cance races).
Past QHRAI Speed Sale graduates include WH Design By Dash ($436,426), Stone Cold Leader ($426,333), WH Kenny G ($275,428) and My Louisiana Red ($220,045),
For additional information visit the QHRAI web site at indianaquarterhorseracing.com or call Vick Conway at 765-748-6806.