RACING THIS WEEK
FEATURES
SERVICES
Consignments forms for the 43rd Annual Heritage Place Fall Mixed Sale are now available.

© Amanda Glidden / Plugged In Marketing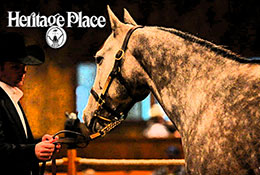 Heritage Place Fall Mixed Sale Consignment Deadline August 17
OKLAHOMA CITY, OK—JUNE 22, 2020—
Consignment forms for the 2020 Heritage Place Fall Mixed Sale are now available. The 43rd Annual Fall Mixed Sale will be held October 30 and 31 in Oklahoma City.
The consignment deadline for the 2020 Heritage Place Fall Mixed Sale and $650 entry fee per horse is due Monday, August 17. Any entries received after the August 17th will be subject to the late catalog fee of $750.
"This sale has proven to be a great option for horses of all ages included yearlings," Heritage Place general manager Spence Kidney said earlier this week. "We will continue to offer a select group of racing and barrel bred yearlings, along with thoroughbreds, paints and appaloosas of all ages."
The first session on Friday (Oct. 30) will be a yearling session of Quarter Horses, followed by all ages of Quarter Horses, Thoroughbreds, Paints & Appaloosas and will include some barrel prospects. The remainder of the first day and day 2 (Oct. 31) will feature a mixed session.
CLICK HERE to download a "Fall Mixed Sale" consignment forms.
"We consider the Fall Sale as a great time of year to sell your broodmares—especially mares due to foal early as well as open or maiden mares. This allows buyers sufficient time to establish a plan and make arrangements prior to the upcoming breeding season," Kidney says.
For additional information contact Heritage Place at 405.682.4551 or visit their website at heritageplace.com.