RACING THIS WEEK
FEATURES
SERVICES
Dunn Ranch will offer 42 select yearlings at the September 24-25 Heritage Place Yearling Sale in Oklahoma City, Oklahoma.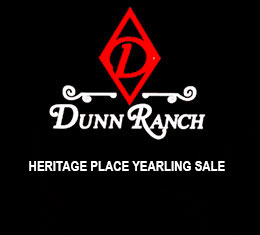 Dunn Ranch Online Heritage Place Yearling Preview Available
WYNNEWOOD, OK—SEPTEMBER 14, 2020—
Dunn Ranch is pleased to announce the release of their online sale preview for the upcoming Heritage Place Yearling Sale, highlighting 42 September sale yearlings.
This virtual preview features photos and catalog pages for consignments Dunn Ranch will represent during the September 24th and 25th sale to be held in Oklahoma City, Oklahoma.
"These are some of the best individuals and pedigrees in our industry and it's exciting to be able to represent them for our clients," says ranch owner Matt Dunn.
CLICK HERE to view the 2020 Dunn Ranch Heritage Place Yearling Sale consignments.
For additional information on these yearlings call Dunn Ranch at (580) 279-6666.