RACING THIS WEEK
FEATURES
SERVICES
Trainer Heath Taylor paid $82,000 for the high-selling yearling on Day One, Hip 32 My Tomorrow, a daughter of leading sire Apollitical Jess, from the James Ranch, agent for for Eaves Horses, FLP consignment.

© StallioneSearch / Greg Thompson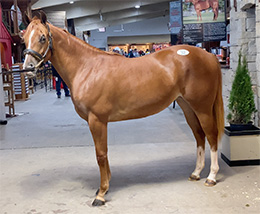 Solid Start To Heritage Place Fall Mixed Sale
OKLAHOMA CITY, OK—OCTOBER 30, 2020—
The Heritage Place Fall Mixed Sale, the final auction of the COVID-19 impacted sales season, began on a solid note today (Oct. 30), with figures ahead of last year's first session that conducted under non-pandemic circumstances.
From the 270 offered in the opening sessions, Heritage Place reported 226 horses were sold for $2,639,000, compared to $2,054,200 total paid for 205 head on Day One a year ago. This year's first day average of $11,677 represented a 29% increase and the median of $8,100 was a 26% increase.
Yearling (all sessions) today averaged $12,498, a 39% increase over a year ago with repurchased remaining steady compared to 2019. Mixed age, breed horses averaged $9,351, an increase of 14% over 2019 with repurchases remaining steady with last year.
"The 2020 Fall Mixed Sale has followed suit with the previous sales this year reflecting a strong demand for quality," Heritage Place General Manager Spence Kidney said late Friday. "Be sure to join us tomorrow (Saturday) for another good day of nice, Oklahoma weather and a good catalog to finish the 2020 Fall Mixed Sale", he added.
Trainer Heath Taylor paid $82,000 for the high-selling yearling on Day One, Hip 32 My Tomorrow. James Ranch, Agent for Eaves Horses, FLP consigned the daughter of leading sire Apollitical Jess from the RG3 winning First Down Dash mare A Delightful Legacy. The sorrel filly is a half-sister to champion and multiple stakes sire Insperable and Grade 3 winner and multiple stakes sire Separate Interest, as well as four other black type.
Friday's second-high seller was Hip 167 Ladys Like Corona, a yearling daughter of leading sire Corona Cartel out of a half-sister to champions Noconi and Beautiful Brenda. Chad Beus purchased the sorrel filly for $70,000 from the consignment of Lazy E Ranch, LLC, Agent for McColee Land & Livestock, LLC.
Danny Montes paid $62,000 for Hip #100 Eye One Sky, a colt by leading sire Favorite Cartel from the Grade 2 winner Eagle On The Fly, a sister to 2020 All American Derby(G1) winner Gold Heart Eagle V and 2020 leading first-crop sire One Fabulous Eagle. Burns Ranch, Agent was the consignor.
Friday's high-selling broodmare was Hip 284 Going To The Hague, a multiple-graded winning daughter of Holland Ease who has produced two black-type. Elizabeth Victor was winning bidder at $35,000. Marty Powers, Agent consigned the 17-year-old mare in-foal to leading sire Tres Seis.
Cuadrael Mashta was the Day One leading buyer with seven purchases grossing $119,200. Alejandro Castaneda had 15 head for $112,900 and Heath Taylor had the high-seller for $82,000.
Bobby D. Cox led all consignors and agents by gross on Day One with nine head grossing $202,000. Burns Ranch, Agent sold 11 head for $196,900 and Lazy E Ranch, LLC, Agent had eight head for $159,400. Lazy E Ranch, LLC, Agent for specific clients also held the 4th, 5th and 9th spots on Friday's top 10 consignors list.
Apollitical Jess was the leading Day One sire of yearlings (by average with two or more sold) with three head averaging $40,333. Corona Cartel had three for $38,167 and leading second-crop sire Kiss My Hocks sold two for a $35,000 average.
Paint My Pilot was the leading covering sire on Day One (by average with two or more sold) with two in-foal mares averaging $13,250. First Prize Doc had two in-foal mares for $9,400.
For preliminary results of Day One, including hip-by-hip prices, CLICK HERE.
* * * * * * *
Session 4, the final session offering Hips 321 thru 637, will start promptly 10 a.m. Saturday (Oct. 31), consisting of mixed horses.
Heritage Place offers online bidding, as well as the horsemen and women who can't attend can view the sale live through an online webcast. For more information and a links to the Catalog Preview, Online Bidding and Sale Webcast CLICK HERE.
A complete online version of the 2020 fall mixed catalog, including horse, consignor, sire and dam indexes, is available by CLICKING HERE.
A downloadable iPad version is currently available on the RGP Catalog App. The RGP Catalog App is available for both Apple and Android phones and tablets. A Catalog App tutorial can be viewed by CLICKING HERE.
The free RGP Catalog App can be downloaded from www.robinglenn.com or by searching for "RGP Catalog App" in the Apple App Store.
For additional sale information call the Heritage Place Sale Company at 405.682.4551 or visit www.heritageplace.com.