RACING THIS WEEK
FEATURES
SERVICES
The 43rd annual Heritage Place Winter Mixed Sale will be held January 15-16, 2021 in Oklahoma City.

© Courtesy Heritage Place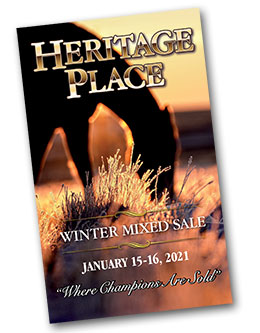 2021 Heritage Place Winter Mixed Catalog Available Online
OKLAHOMA CITY, OKóDECEMBER 8, 2020ó
The 2021 Heritage Place Winter Mixed Sale Catalog is available online at the company's website by
CLICKING HERE
. User's should allow for a little extra initial download time due to the size of the book, depending on their connection.
The 43rd annual Winter Mixed Sale, scheduled for January 15-16, 2021 at the Heritage Place Sales pavilion in Oklahoma City, will offer 691 head of Quarter Horses, Paints, and Thoroughbreds. Stallions, broodmares, weanlings, short yearlings and horses of racing age will be offered.
"We are expecting another great Winter Mixed Sale," Heritage Place General Manager Spence Kidney said.
AQHA will also announce the 2020 AQHA Racing Champions during an annual ceremony on Thursday evening, January 14 at 6:00 pm in the Heritage Place auditorium. The annual pre-sale party will be held prior to the champions announcements from 5 to 6 p.m.
Breedings to several top stallions with be sold on Friday and Saturday to benefit the Sam Thompson foundation.
The Winter Mixed catalog will also be available for download through RGP Catalog App soon. Hard copies of the catalog are expected to drop shortly.
For additional information or to order a catalog contact Heritage Place Sale Company at 405.682.4551 or visit the company website at heritageplace.com.