RACING THIS WEEK
FEATURES
SERVICES
Juveniles continued timed works at Los Alamitos Race Course on Thursday.

© Jim Anderson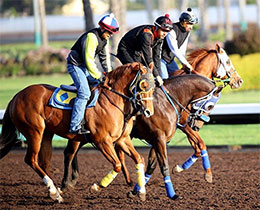 One Dashing Eagle-No Fees Colt Does Well During Morning Works On Thursday
LOS ALAMITOS, CAóMARCH 17, 2017ó
Ten juveniles posted 220 yard workouts on Thursday morning at Los Alamitos and a Texas-bred colt out of the talented mare No Fees was among the eye-catching horses of the morning.
Sired by One Dashing Eagle and out the solid producer No Fees, Hawkeye was one of five young runners to work the distance in :12.60 on Thursday.
No Fees had a brief for stellar career. The daughter of Runaway Winner was undefeated in six career starts and was the winner of the $253,000 TQHA Sale Futurity, Miss Houston Stakes and John Deere Texas Juvenile Classic.
No Fees is the mother of Jess Scared Money, a finalist to the Dash For Cash Derby and Sam Houston Derby. No Fees also produced Anidorite, the fifth-place finisher in the $520,000 Remington Park Futurity and a finalist to the Dash For Cash Futurity. Jose Flores trains Hawkeye for 2016 AQHA Champion Breeder and two-time AQHA Champion Owner Bobby Cox.
Ed Allredís Boys Are Best worked evenly with Hawkeye on Thursday morning. Trained by Jose Flores, Boys Are Best is a Walk Thru Fire colt out of the broodmare Feminista. Boys Are Bestís female family includes some great names like Separatist, Way Maker, Make It Anywhere and Kingman Kid.
Feminista is the mother of Governorís Cup Futurity finalist Female Friend, which produced Governorís Cup Futurity third place finisher My Buddie. Kindergarten Futurity winner Old Girl plus stakes winner Boylike, Bring Me Home and Choosy are also part of this family.
Rosh Bgosh, a filly by Foose out of Flare Checking, also posted a :12.60 clocking on Thursday. Trained by Juan Aleman, Rosh Bgosh is from the family of Grade 1 winner Flare For Toby, Governorís Cup Futurity winner Up For It and stakes winner Man From Nocona. Her dam, Flare Checking, was second in the 2011 John Deere Stakes, third in the Chickasis Handicap and was a four-time winner at Los Alamitos. Flare Checking is the mother of Frenemy, also a four-time winner at the Orange County track. The Walk Thru Fire filly Fire In My Heart also worked in :12.60 for trainer Jose Flores.
Jaime Gomez worked Valiant Force in a time of :12.80 on Thursday morning. The colt by Walk Thru Fire is out of the broodmare Thatsa Blazin Chick, which has produced some outstanding runners to have raced at Los Alamitos. Her progeny is headed by Fires Blazin, the runner-up in the 2012 Ed Burke Million Futurity. Fires Blazin also competed in the Golden State Million Futurity and Los Alamitos Two Million Futurity as a 2-year-old and in the Los Alamitos Winter Derby and Southern California Derby as a 3-year-old.
Buffalo Head, winner of the California Breeders Freshman Stakes in 2008, and Ur My Princess, a qualifier to last yearís Kindergarten Futurity, are two others out of Thatsa Blazin Chick.
Trained by Juan Aleman, Mysterious Night worked in :12.90 from the inside post on Thursday. The Texas-bred filly is by Valiant Hero and out of 2008 Golden State Million Futurity finalist Splendifferous.
The mare also finished second in the Debutante Stakes and competed in the Grade 1 Mildred Vessels Handicap. Splendifferous is the dam of the Corona Cartel mare Tallulah Moon, which won the 2014 John Deere Retama Park Juvenile Challenge.
Tallulah Moon qualified to the Los Alamitos Invitational Stakes as a 2-year-old and in the following year she qualified to the Grade 1 Los Alamitos Super Derby. Daring And Dashing, which enjoyed a stakes winning career at 550 and 870 yards, is also out of Splendifferous. Daring And Dashing competed in the All American Juvenile Stakes as 2-year-old.
Gate workouts continue at Los Alamitos on Saturday morning. Videos of the gate workouts will feature at www.losalamitos.com.
Courtesy of www.losalamitos.com.