RACING THIS WEEK
FEATURES
SERVICES
Kiddy Up Cowgirl, under jockey Eulices Gomez, winning the $184,000 PCQHRA Breeders Derby(G3) Friday night at Los Alamitos Race Course.

© Scott Martinez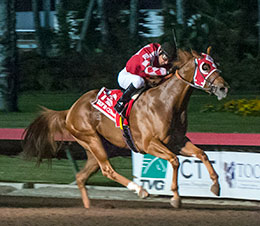 Kiddy Up Cowgirl Is Too Strong In PCQHRA Breeders Derby Friday At Los Alamitos
LOS ALAMITOS, CA—OCTOBER 6, 2017—
David Nelson knew a lot about Kiddy Up Cowgirl well before he purchased her privately from Robin MacPherson, the daughter of the late Quarter Horse owner and breeder Rod MacPherson.
"We had watched her on TVG and even back then (trainer) Jimmy Glenn, Jr. kept bragging about her," Nelson said. "He said that this was really a good horse and that she would develop into something special."
Kiddy Up Cowgirl is pretty special right now, especially after an impressive victory in the $184,000 PCQHRA Breeders Derby(G3) on Friday at Los Alamitos. Ridden by Eulices Gomez, the filly by Kiddy Up was sixth at the start before making a big run on the way to an easy ¾ length win at 16-1 odds.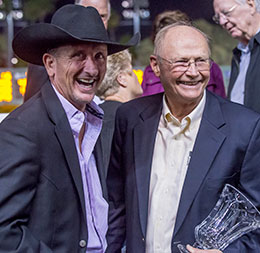 Winning trainer James Glenn with owner David Nelson.
© Scott Martinez
"A few steps after the gap she was really rolling and I started thinking that she was going to beat them and sure enough she just kept going," the trainer said. "I could see that she was reeling them in and with her stride and her late punch, I knew she had a chance. The more ground, the more she loves it."
When Robin MacPherson decided to start sell her late father's horses one of her main goals was to make sure that the horses that were already under Glenn's care would remain there. That included the multiple stakes finalist Kiddy Up Cowgirl.
"When Robin MacPherson decided to get out of the business Jimmy had three horses with her including Kiddy Up Cowgirl," Nelson said. "She said 'find somebody, find a home for them,' so he called me and said 'hey, I got a real deal for you.' We said that we would take it. It was a great opportunity. We just happened to be standing on the street corner when good luck came by.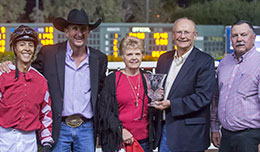 The winning connections of Kiddy Up Gowgirl with breeder David Martin (far right) accept the PCQHRA Breeders' Derby stakes trophy.
© Scott Martinez
"Jimmy is always selling me something, but we are very happy that we bought her," the owner added with a laugh. "She's paid for herself and paid for the baby I bought at the Los Alamitos Equine Sale here last year. It was all good. I don't know if I'll sleep at all tonight."
"Robin went out of her way to help us make this deal happen," Glenn, Jr. added. "We can't thank her enough. We bought a group of horses from her for pennies on the dollar. She wanted to make sure that these horses would have a great home."
Few owners could appreciate the David Martin-bred Kiddy Up Cowgirl as much as David and Leah Nelson.
"We've had a little luck here and there, but by in large we've had a long dry spell. It was time to restock and go get some better-quality stock," Nelson added.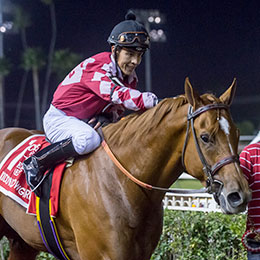 Jockey Eulices Gomez and Kiddy Up Cowgirl in the Los Alamitos winners' circle.
© Scott Martinez
"David has always enjoyed his homebreds," Glenn, Jr. said. "When I first started coming to Los Alamitos many years ago it was with David and Leah's horses."
Racehorse ownership has always brought joy to the Nelsons, but the PCQHRA Breeders Derby is one race that they will not soon forget.
"This is not one of the most exciting races, but the most exciting race ever for us," he added. "It was totally unexpected. She has a running style and she breaks with the group and she's so long striding that it takes her a while to regroup and get going. The smaller horses get away from her and she has to run them down. Tonight, she just kept going. It totally blew me away in a good way."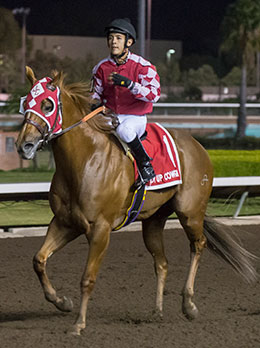 Kiddy Up Cowgirl, under jockey Eulices Gomez, returns after winning the Grade 3 PCQHRA Breeders' Derby at Los Alamitos Friday.
© Scott Martinez
"She was there early on and I knew we could come and get them," Gomez added. "She was within a neck maybe a short half at the most and just kept on running and got them at the wire. She liked rail. She surprised me."
Third in the Grade 1 Los Alamitos Winter Derby earlier this year and fourth in last year's PCQHRA Breeders Futurity and this year's Governor's Cup Derby, Kiddy Up Cowgirl earned $73,080 for her victory in the PCQHRA Breeders Derby. Now a winner of four of 16 career starts, she's now earned a total of $166,591.
A graduate of the Los Alamitos Equine Sale, Kiddy Up Cowgirl is eligible to compete in the trials to the Grade 1 Los Alamitos Super Derby on October 21.
Kolleen Ledgerwood's Renewed earned $29,580 for running second. The Walk Thru Fire colt broke sharply from post number three and had the early lead before giving way to the late striding Kiddy Up Cowgirl.
Ron Hartley's One Famous Eagle glelding, One Proud Eagle, the winner of the Kindergarten Futurity and John Deere Juvenile Challenge last year, earned $20,880 for running third.
LD Is Back, the 3-2 favorite, ran fourth and was followed by Ms Jess Knockout, Duck Dash N Go, Myfavoritestreaker, Brimmin Corona, Remembering Florence, and Look At Her.
Courtesy of www.losalamitos.com.