RACING THIS WEEK
FEATURES
SERVICES
Kvn Corona(#9) battles Just Walk By (#6) to the wire in Saturday's $400,000 PCQHRA Breeders' Futurity(G3) at Los Alamitos Race Course.

© Scott Martinez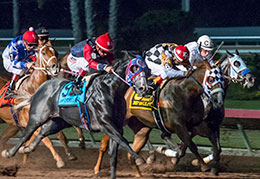 It's Close, But Kvn Corona Remains Unbeaten After Winning PCQHRA Breeders' Futurity
LOS ALAMITOS, CAóOCTOBER 7, 2017ó
The running of the Grade 2, $400,000 PCQHRA Breeders Futurity was closer than many expected, but in the end the final result was the one most observers predicted with Keith Nellesenís unbeaten star KVN Corona, the 1-5 favorite in this race, coming out on top in the 350-yard dash Sunday at Los Alamitos.
With Ramon Sanchez up for trainer Paul Jones, KVN Corona was fourth at the start of the race before finding his top gear to catch Steve Burnsí Just Walk By on the way posting a hard-fought head victory in a time of :17.671.
KVN Corona improved his perfect record to five wins in as many starts, while adding a second futurity win to his resume.
The colt by Corona Cartel out of the Executive Menace mare Executive Looks previously won the Grade 1, $1,000,000 Ed Burke Million Futurity here on June 18. A full brother to Grade 1 Los Alamitos Super Derby winner Big Lew, KVN Corona earned $163,800 in the PCQHRA Breeders Futurity to take his lifetime earnings to $575,250.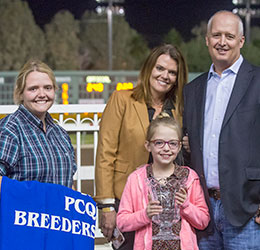 The Nellesen family with the PCQHRA Breeders' Futurity stakes trophy Saturday night at Los Alamitos Race Course.
© Scott Martinez
"He was really good in paddock and has been a little pro," Jones said. "He went out on the track and stood in the gates perfect. He broke a little off tonight. He lost his footing a touch and kind of brushed the horse inside him, but not too bad. He didnít get to the lead right away. He had to work a little tonight to catch (Just Walk By). That horse had a big lead and he ran a beautiful race tonight. Ramon did a great job riding him. He let the horse gather himself up and get his feet back under him and then he asked him to run about midway. He got him rolling and put his stick away and kind of measured him at the wire and caught him and won by a head.
"The horse is just a great horse," Jones added. "I canít say much more for this horse. Heís been 100% perfect so far. Heís won two futurities. Heís just a pleasure to train. Great horses make good trainers. Itís nice to get this one out of the way. Iíll sleep a lot better tonight."
KVN Corona is named after Kyle Van Noy, outside linebacker for the defending Super Bowl champion New England Patriots. Van Noy, who played college football at BYU in Utah, is also a close friend of the Nellesen family.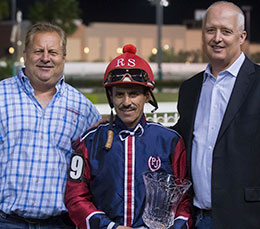 Winning trainer Paul Jones, jockey Ramon Sanchez and owner Keith Nellesen.
© Scott Martinez
"My kids are here tonight, itís the first time theyíve been here, and Kyle is like our child," Nellesen said. "My youngest daughter actually thinks that heís her brother. Itís been a special relationship. When you raise as many foals as we are, you have to come up with names. We really like this horse and obviously, we love Kyle. Someone came up to me today and said Ďdo you pronounce it Que Bien?í I guess thatís Really Good in Spanish, which sounds great."
Nellesen added that Van Noy is really enjoying Quarter Horse racing and his namesake, KVN Corona.
"Iím always nervous, especially when (KVN Corona) goes off as the big favorite," Nellesen added. "He showed his class and refused to lose. Iíd like to get him out of the gate a little faster, but all that matters is that he got the end first. Heís just a classy horse, I donít know how to say it other than that. Even in the paddock, heí a really calm horse. It seems like once itís time to go, he knows itís time to go. Ramon rides him with a lot of confidence and can kind of feel whatís happening there. Obviously, it was a lot closer than everyone thought it was going to, but thatís why they run them.
Kvn Corona, under jockey Ramon Sanchez, returns after winning the Grade 3 PCQHRA Breeders' Futurity.
© Scott Martinez
"Weíre going to skip the Golden State (Million Futurity trials)," the owner added. "Itís a little too close. Heíll come back for the Los Alamitos Two Million Futurity (trials on November 26). Theyíre 2-years-old, right? I just thought to come back two weeks later and if he qualifies to come back two weeks after thatÖAnd he ran really good in the (PCQHRA Breeders Futurity) trials coming out of a break. Weíre not really afraid of him coming in too fresh."
Ridden by Eduardo Nicasio for trainer Mike Casselman, the Dr. Burns-bred Just Walk By earned $66,300 for her strong runner-up effort in this race. Sired by Walk Thru Fire and out of the outstanding broodmare, Babe On The Fly, Just Walk By is a full sister to Ed Allred and Burns Ranchís new stallion Fly Thru The Fire and a half-sister to Grade 1 winners Little Talks and Rock You.
Ron Hartleyís The Revenant earned $46,800 for his solid third place finish for jockey Cesar De Alba and trainer John Cooper. The Revenant was also the third-place finisher in the Governorís Cup Futurity to Ed Burke Million runner-up J Fire Up. The Favorite Cartel gelding, out of Remember Me Rose by Corona Cartel, now made $102,200.
John Firthís Hard Headed Chick was fourth with Cannon, Davidson, et alís Wild Wonder running fifth. La Rusa, Apollitical Stone, Rockin Asteroid, and King Of Appeals MV completed the field.
Courtesy of www.losalamitos.com.