RACING THIS WEEK
FEATURES
SERVICES
J Fire Up(#2) wins the Golden State Million Futurity(G1) by whisker over Matilda Czech(#3).

© Scott Martinez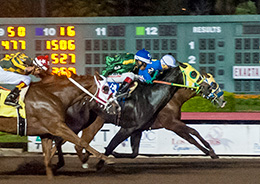 J Fire Up Wins Golden State Million Futurity By A Nose At Los Alamitos
LOS ALAMITOS, CA—NOVEMBER 5, 2017—
Darling Farms, Jaime Gomez, and Ernesto Solis' J Fire Up outdueled EG High Desert Farms' Matilda Czech by the slimmest of margins in one of the most dramatic finishes in the 48-year history of Grade 1 Golden State Million Futurity on Sunday at Los Alamitos Race Course.
Ridden by Jose Nicasio from post number two, the even money favorite J Fire Up took the lead in the 400-yard futurity early on, but was soon joined by the 16-1 longshot Matilda Czech, who had left the gate right alongside her from post number three.
The two fillies hooked up from there with J Fire Up gamely responding to Nicasio's right-hand urging, while Matilda Czech matching her stride for stride under the guidance of jockey Cruz Mendez. In the end, J Fire Up found a way to hit the wire first, and while the official margin of victory was a nose, the win photo showed that the difference between first and second place in the $938,850 Golden State Million Futurity was tighter than that, perhaps just a few centimeters.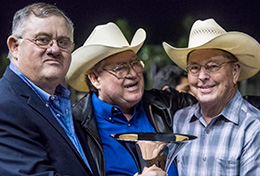 Howard Nichols presents the Golden State Million Futurity stakes trophy to Jaime Gomez and Dan Darling.
© Scott Martinez
"When our filly saw the other filly, she just kept on trying," said Gomez, now a four-time winning trainer of the Golden State Million. "Matilda Czech kept coming on strong, but our filly came back as well and beat her. To be honest, I wasn't sure if we had won the race. I thought that maybe we had a dead-heat for first. Matilda Czech's trainer (Valentin Zamudio) said 'come on with the results' as we were waiting for the photo finish. I told him 'I'll settle for the dead-heat.' Then I saw the results and it was a thrill."
"She ran like I expect her to run," Nicasio added. "She broke well, but Matilda Czech was right there with us. I felt Matilda Czech 50 yards into the race. In the final yards she was really coming on, but we hit the wire together. It was a tough race and for a moment I thought that maybe we had lost, but we didn't. I just want her to stay healthy and we'll be ready to keep on fighting."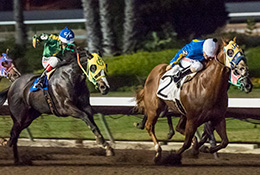 J Fire Up and Matilda Czech are head-to-head.
© Scott Martinez
For Nicasio, the younger brother of three-time Champion of Champions winner Eduardo Nicasio, the Golden State Million was his first Grade 1 victory.
"I feel like J Fire Up ran her race," the jockey added. "It was a nice race. She needed to finish strong. Matilda Czech ran one heck of a race. I'm just hoping that J Fire Up maintains her form for the next one."
Bred and trained by Gomez, J Fire Up earned $380,037 for the win to take her career earnings to $712,762. The Kiddy Up filly also improved her record to five victories in seven career starts. She's been second in both of her other starts, including finishing a head behind the unbeaten KVN Corona in the Grade 1 Ed Burke Million Futurity on June 18. J Fire Up won the $390,000 Governor's Cup Futurity on July 29.
"We're going forward now with the Los Alamitos Two Million Futurity trials (on November 26)," Gomez said.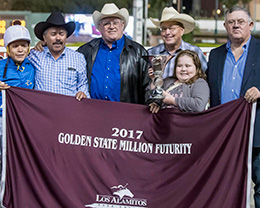 The winning connections of J Fire Up in the Los Alamitos winner's circle Sunday night following their victory in the Golden State Million Futurity(G1).
© Scott Martinez
The trainer now ranks only behind Blane Schvaneveldt's stakes record of six wins in the Golden State. Gomez's previous victories in this race came with Romeo Ryon in 1998, Higher Fire in 2005, and Jess You And I in 2006. And to think that J Fire Up was repurchased by $25,000 at the Los Alamitos Equine Sale last year.
"Ernesto and I would have sold her for $30,000," Gomez said. "That's what we wanted for her. We brought her back and then Dan Darling expressed interest in becoming our partner. He ended up buying a 50% share of her and Ernesto and I kept 25% each."
Gomez and Solis go back 25 years in the business together. "Ernesto used to work for Carlos Lopez running his ranch in Murrieta, California," Gomez said. "When I took over the ranch, Ernesto stayed with me. He's been there ever since. He does a great job for me at the ranch. I know I can call him in the middle of the night and ask him to help me with a horse and he'll do it without hesitation. He's an important part of my team."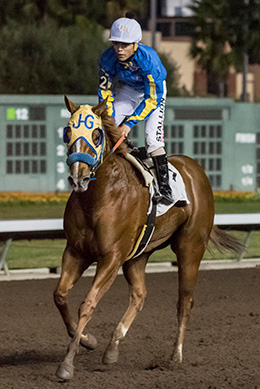 J Fire Up, returns under jockey Jose Nicasio after winning the Golden State Million Futurity(G1).
© Scott Martinez
"I've been working for Jaime for 25 years at his ranch," Solis added. "Jaime has always encouraged me to own horses and has helped me a lot in doing that. When I decided to own a horse I asked him if I could buy one from him and instead he gave me a horse to get started. I've had a few horses ever since. From day one I told Jaime that this filly had something special about her."
Gomez's ranch in Murrieta is home to J Fire Up's dam, This Boogie Fires, who was the fastest qualifier to the La Primera Del Ano Derby in 2012 and third fastest qualifier to the Kindergarten Futurity in 2011. This Boogie Fires is the dam of Thats Imperial, the sixth-place finisher in the Golden State Million Futurity last year.
"This Boogie Fires has a Corona Cartel weanling and a Pyc Paint Your Wagon weanling," Gomez said. "She also has a Mr Jess Perry yearling filly and a Carters Cartel yearling filly. I'll try to get me another Kiddy Up baby next year."
As for Dan Darling of Darling Farms, the Golden State Million Futurity was a victory he won't soon forget.
"I'm not sure if my old heart can take very many like that one," he said.
EG High Desert Farms' Matilda Czech earned $153,824 for her gutsy runner-up finish. Sired by first-crop sire Fast Prize Cartel and out of Grade 1 Southern California Derby winner Short Czech, Matilda Czech had a three-race win streak snapped. She's finished first or second in six of her seven career outings. Matilda Czech has now earned $185,309.
Parsons Ranch's A Political Lady, ridden by Eduardo Nicasio for trainer Chris O'Dell, earned $108,582 for running third at 46-1 odds. A Political Lady, a filly by Apollitical Jess, has finished in the top three in six of her seven career starts.
The O'Dell-trained Chance To Fire ran fourth and was followed across the wire by Black Fryday, The Revenant, Call Me Cole, Famous N Hot, Remember To Dash, and Unblemished.
All 10 of the horses in this race are eligible to compete in the Los Alamitos Two Million Futurity trials on November 26.
Courtesy of www.losalamitos.com.