RACING THIS WEEK
FEATURES
SERVICES
Jess My Kiss, under jockey Cesar DeAlba, driving to victory in the Grade 1 Los Alamitos Winter Derby Saturday night.

© Scott Martinez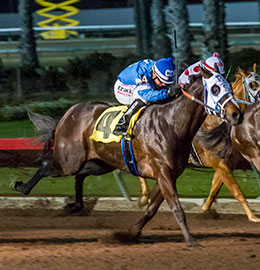 24-1 Longshot Jess My Kiss Wins Grade 1 Los Alamitos Winter Derby For Mark And Peggy Brown
LOS ALAMITOS, CA--FEBRUARY 10, 2018--
Longtime owners and breeders Mark and Peggy Brown enjoyed the first Grade 1 stakes win of their racing career after their homebred Jess My Kiss posted an upset victory in the $215,450 Los Alamitos Winter Derby on Saturday at Los Alamitos.
It was a Dream win for the Browns, as Jess My Kiss is out of their 10-year-old broodmare Dreaming Of Kisses, who is also the mother of the multiple Grade 1 finalist Kissed By An Eagle. Between those two sprinters, the Browns have been a part of seven graded stakes races, but it wasn't until the 24-1 longshot Jess My Kiss won the Los Alamitos Winter Derby that their dream of a Grade 1 victory became a reality.
Ridden by Cesar De Alba from post number four, Jess My Kiss was in third place after leaving the gate, just a few steps behind the fast breaking CM Boom Shakalaka. The Idaho-bred son of One Sweet Jess began to pick up speed and took the lead after the halfway mark and from there held off a huge finish from Martha Wells' Yanque to win by a neck.
The victory was also the first Grade 1 win as a trainer for former Quarter Horse jockey Roman Figueroa, who was the winning rider of the 1995 Champion of Champions. Jess My Kiss covered the distance in :19.715 while picking up his second win in 10 career starts.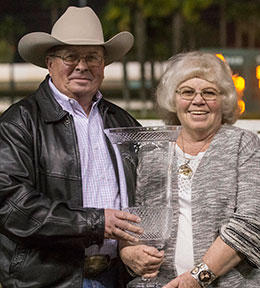 Winning owners' Mark and Peggy Brown accept the Los Alamitos Winter Derby(G1) stakes trophy Saturday night.
© Scott Martinez
"He's a homebred that we raised out of our good old mare Dreaming Of Kisses," Mark Brown said. "She's also had Kissed By An Eagle, who has been a good campaigner out here. (Dreaming Of Kisses) has been our family pet. We took her to a sale to sell her, but we bought her back. We had Jess My Kiss in the Los Alamitos Equine Sale and we wanted $20,000 for him. We bought him back for $14,000. He's one of our homebreds, he's one of our babies. We raised him. We raised his mother. His mother's dad was also a stakes winner at Los Alamitos by the name of Legendary Dreamer. We raised him too. It's been a long time that we've been breeding these horses."
Mark Brown's passion for horses started when he was in his late teens in American Falls, Idaho. The then 18-year-old had dreams of becoming a jockey at a young age, but he would eventually concentrate on riding bareback horses and bulls and participating in chariot racing, winning the All American Chariot Futurity in Utah. While driving chariots, Mark met his wife, Peggy. She grew up around horses and racing as well, as her father, Sherm Duffin, owned and raised a fair share of his own. She also had a training license and was an outrider at the track.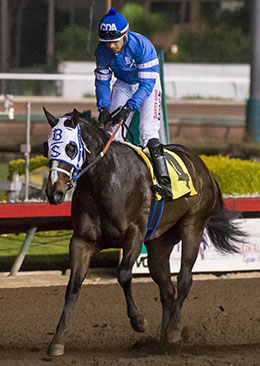 Jockey Cesar DeAlba returns aboard Los Alamitos Winter Derby(G1) winner Jess My Kiss.
© Scott Martinez
It was Peggy's father who originally started bringing horses to California for racing many years ago and the Browns have continued that tradition for more than 20 years now. Their mare Dreaming Of Kisses never did race at Los Alamitos, but she did win the $100,000 Bitterroot Futurity at Les Bois Park in 2010, while their other top winners have included the 2004 Jens List Memorial Breeders Stakes winner Legendary Dreamer and The Plan Stakes winner Timely Delivery.
It's been as a broodmare where Dreaming Of Kisses has made her mark. Her son, the One Famous Eagle gelding Kissed By An Eagle, was third in the Grade 1 Los Alamitos Super Derby last year and will race in the Grade 1 Brad McKinzie Los Alamitos Winter Championship on Sunday night. And her other son, Jess My Kiss, has now earned $185,101 in his career after banking $90,489 for winning the Los Alamitos Winter Derby.
"We'd like to thank the Schvaneveldt family," Peggy Brown said. "They've done a great job with our horses. We've been with the Schvaneveldt for years. They're like family. We've been close in big races, a lot of them. It's such a great feeling to win this race."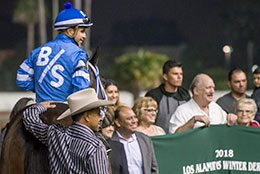 Jess My Kiss with trainer Ramon Figueroa in the Los Alamitos Winter Derby(G1) winner's circle.
© Scott Martinez
"A lot of great horsemen have come from the intermountain region," Mark Brown added. "You can go back to people like Wayne Charlton when he brought Charger Bar down here, plus Blane Schvaneveldt, John Cooper, and the list goes on and on. There are a lot of great horsemen in the region and I'd invite them to come to Los Alamitos because there's great racing here and a fair playing field."
The Browns hope that Dreaming Of Kisses will keep on producing Grade 1 caliber runners for years to come.
"We have (Dreaming Of Kisses) booked to One Famous Eagle," he added. "We're going to get two embryos out of her by One Famous Eagle. Monty Arrossa bought a yearling out of her (now a 2-year-old). The colt is here at Los Alamitos. He's a nice colt. We had a hard time selling him."
Meanwhile, Jess My Kiss will now enjoy a well-deserved vacation.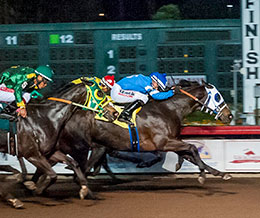 Jess My Kiss (#4) scores in a blanket finish over Yanque (#2), Moonie Blues(#3) and Matilda Czech (#5).
© Scott Martinez
"We're going to give Jess My Kiss a rest," Brown continued. "He's had a long season. He's going to go to the Firth Ranch. We're going to turn him out for at least two months now. He's in the Golden State Derby trials (in August) and the PCQHRA Breeders Derby and Los Alamitos Super Derby. It's time for him to rest now."
Ridden by Jorge Bourdieu for trainer Matt Fales, Yanque earned $36,627 for his strong second place finish. The Favorite Cartel gelding broke last among the 10 horses in the field before making his incredible late run. Yanque has finished in the top two in eight of 11 career starts.
Lisa Anderson's Freighttrain B tilly Moonie Blues earned $25,854 for her third place finisher in the Winter Derby final. Voted the Intermountain Horse of the Year at Los Alamitos in 2017, Moonie Blues won the Wild West Futurity and was second in the Grade 1 Los Alamitos Two Million Futurity last year.
EG High Desert Farms' multiple grade 1 Fast Prize Cartel filly Matilda Czech was fourth. She was followed across the wire by Cm Boom Shakalaka, Ray Donovan, Ditto Head, Twenty One Gunz, Fire And Sass, and Fenian Faith.
Courtesy of www.losalamitos.com.