RACING THIS WEEK
FEATURES
SERVICES
BH Lisas Boy, under jockey Cesar DeAlba, drives to victory in his second consecutive Grade 1 Brad McKinzie Los Alamitos Winter Championship Sunday night.

© Scott Martinez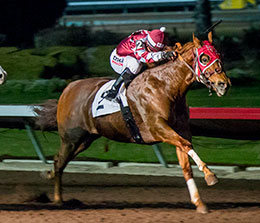 Bh Lisas Boy Defends His Title In Brad Mckinzie Los Alamitos Winter Championship
LOS ALAMITOS, CA--FEBRUARY 11, 2018--
Bill Hoburg's homebred BH Lisas Boy became the first back-to-back winner of the Grade 1, $157,250 Brad McKinzie Los Alamitos Winter Championship, formerly named just the Los Alamitos Winter Championship, after outdueling 2016 Champion of Champions winner Zoomin For Spuds by a neck on Sunday night.
With Cesar De Alba aboard, BH Lisas Boy was third after leaving the starting gate from post number two in the 400-yard race. Meanwhile, Zoomin For Spuds left the gate like a flash from post three to quickly open a neck advantage over 22-1 longshot Jess Hawk. But that's when BH Lisas Boy went to work.
"(Zoomin For Spuds) was about a half-length in front of us," De Alba said. "My horse broke on his left lead, but 50 to 75 yards he switched to his right and I knew that by switching to that gear that I was going to get him. I was pretty confident from there. A great job by Bill (Hoburg)."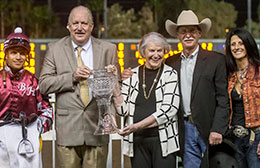 Mark and Jean McKinzie present the winning connections of Bh Lisas Boy the Brad McKinzie Los Alamitos Winter Championship(G1) stakes trophy Sunday night.
© Scott Martinez
After switching leads, BH Lisas Boy took off, moving past Jim Walker's Zoomin For Spuds in the final 100 yards while covering the distance in :19.636 to nearly match his :19.62 winning time in last year's Winter Championship.
BH Lisas Boy earned $66,045 for the win to take his career earnings to $519,243. The 6-year-old Idaho-bred gelding by Mighty Invictus also picked up his 17th win in 29 career starts while also scoring the third Grade 1 victory of his career.
And to think that BH Lisas Boy's presence in the Brad McKinzie Los Alamitos Winter Championship was in serious doubt when he was vanned off after bleeding when running third in his trial for this race on January 21. With the track closed for renovation earlier this week and with BH Lisas Boy needing to post a workout after going on the vet's list because of the bleeding, Hoburg had to get creative with his training.
Los Alamitos racing officials helped set up a workout for BH Lisas Boy at Santa Anita Park on Monday morning, February 5, which if completed with no issues would help BH Lisas Boy come off the vet's list. As it turned out, BH Lisas Boy was able to work 220 yards in an easy :12.60 with no setbacks, giving him the clearance to enter in the Brad McKinzie Los Alamitos Winter Championship.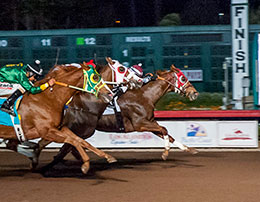 Bh Lisas Boy (#2) finishing ahead of Zoomin For Spuds (#3) and Jess Hawk (#9) in the Brad McKinzie Los Alamitos Winter Championship.
© Scott Martinez
With all the hoops that BH Lisas Boy had to jump through in order to make this race, there must have been some sleepless nights for Hoburg, who bred, owns, and trains the sorrel gelding.
"You're confusing with somebody who was concerned," the always quotable Hoburg said on Sunday night. "I knew that we could get back. We've been through this before with horses in the past and like I was telling some friends of mine, it takes a village to win a horse race. I've had so much support behind me with this horse. Scott Craigmyle, (the Los Alamitos assistant director of racing and stable superintendent) setting up the workout at Santa Anita and friends of mine came together and got behind me to give me suggestions on what we needed to do. It all came together."
On Super Bowl Sunday afternoon, Hoburg hauled BH Lisas Boy to Santa Anita to begin preparing him for his Monday morning workout. After his morning move at the Arcadia track, BH Lisas Boy returned home to Los Alamitos in Orange County, but in the process became the first Quarter Horse to work at Santa Anita since Griswold did so in preparation for his famous 1991 match race with the Thoroughbred Valiant Pete. Hoburg, meanwhile, was focused on how BH Lisas Boy would do when schooled in the starting gate on Friday morning, just two days before the Brad McKinzie Los Alamitos Winter Championship night.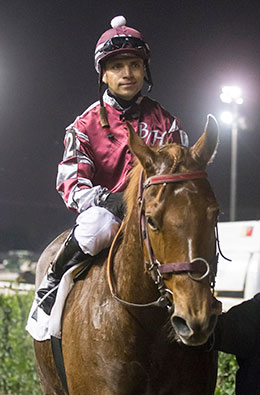 Jockey Cesar DeAlba ride Grade 1 Brad McKinzie Los Alamitos Winter Championship winner Bh Lisa Boy into the Los Alamitos winners' circle.
© Scott Martinez
"(Schooling him on Friday) was the deciding factor," Hoburg said. "This horse is a very mental horse and how he walked into the gate and stood was very important to me because I wanted him to have confidence. He walked in the gate with all the confidence in the world and I knew right there that we would be alright. I didn't want to leave any rocks unturned. He was ready. In the race, he stood like a statue in the starting gate. This horse is my best friend in the world. I love this horse and when you talk to him he looks you right in the eyes. He's a very special horse.
"We're in a great spot now that we've qualified to the Champion of Champions (via this victory), which is the pinnacle. I might give him a little break now and campaign him later in the summer or maybe the fall. He deserves a break. The horse will decide (if the break will be 60 or 90 days). He's the boss. I'm just his equine concierge. Whatever he wants to do I'll do."
Ridden by Jesus Rios Ayala for trainer Monty Arrossa, Zoomin For Spuds finished a nose ahead of Jess Hawk to earn $26,733 for owner/breeder Jim Walker. Bred in Idaho, Zoomin For Spuds has finished in the top three in an amazing 25 of 27 career starts. The Zoomin For Bux gelding has earned $558,156 in his stellar career.
EG High Desert Farms' Jess Hawk earned $18,870 for running third to trainer Lorenzo Campuzano and jockey Rodolfo Arvizu. The 4-year-old filly is by last year's leading third-crop sire One Sweet Jess.
Kissed By An Eagle, Da One Two Special, LD Is Back, Air Force Won, Seared, and Worth Doing completed the field. He Looks Hot was scratched after undergoing colic surgery on Saturday.
Courtesy of www.losalamitos.com.