RACING THIS WEEK
FEATURES
SERVICES
Big Champion, under jockey Juan Sanchez, was a four-length winner in the $20,000 Wheatland Handicap Saturday night at Los Alamitos Race Course.

© Scott Martinez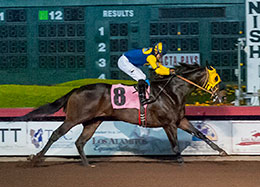 Big Champion Is Powerful Late To Win Wheatland Handicap
LOS ALAMITOS, CA—APRIL 15, 2018—
4 Hares Racing, Inc's Big Champion is the big horse in the distance division at Los Alamitos right now. The Thoroughbred gelding by Munnings proved it on Saturday night, as he defeated a strong group of runners to win the $20,000 Wheatland Handicap by four lengths at 870 yards.
Ridden by Juan Sanchez for trainer Michael Curtis, Big Champion has now posted three runaway wins at the Orange County oval.
and Evelyn Parrella present the Wheatland Handicap stakes trophy to 4-Hares Racing, Inc. Saturday night at Los Alamitos Race Course.
© Scott Martinez
He won an allowance race by seven lengths here on March 16 and just nine days later returned with another romp in an allowance event, this one by 5 ˝ lengths.
The Wheatland figured to be a tough challenge for Big Champion with the presence of Truly A Pleasure Handicap winner Bound To Bet, a four-time winner here in 2018 in Dream On Brother, plus local stars My Capullo, Justamitch, Mason B, and Back Beauty.
In the end, it was still Big Champion on top, as he took control of the race around the turn for home and then pulled away from his rivals to post his third convincing victory in a row. Big Champion's winning time of :44.408 is the meet's fastest at 870-yard. His clocking bettered the previous meet's best time of :44.439 posted by Bound To Bet on March 2.
"We knew (Big Champion) was in shape and we knew he would run really well," owner Lance Hare said. "We were always concerned with Bound To Bet. He's a class horse. We were concerned with him since the entries came out and felt he would be the competition. We knew we could get him on the stretch."
It was My Capullo and Justamitch who battled during the early stages of the race, while Bound To Bet was off slow and lacked room around the turn for home. Meanwhile, Big Champion showed good speed right from the start, stalked the leaders, and then made his bid while racing three-wide turning for home. He earned $11,000 for the win to take his career earnings to $52,605. He's won four of 11 starts.
"Our group is so happy," Hare said. "I have to give credit to our trainer Mike Curtis and the groom of this horse. They do a great job with the horses and getting this horse ready for this race. We had a good plan with this horse and it's working out. We love Los Alamitos and we'd certainly run in any race they have down here. We do have to move him to Santa Anita for his next race maybe, but we'll be in contact with any races that we can get him down here. We'd be happy to."
Nazario Hernandez's Quarter Horse My Capullo held on for second and earned $4,500 in the process. Raul Mariscal's Thoroughbred Justamitch finished third. B
Bound To Bet, Mason B, Back Beauty, and Dream On Brother completed the field.
* * * * * * * * * * * * * * *
Courtesy of www.losalamitos.com.