RACING THIS WEEK
FEATURES
SERVICES
Sc Money Maker, under jockey Oscar Peinado, posting the fastest qualifying time for the Ed Burke Million Futurity(G1) over fellow qualifier Powerful Favorite Sunday evening at Los Alamitos Race Course.

© Scott Martinez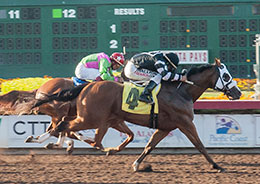 Sc Money Maker Has Fastest Time To Ed Burke Million Final; Wicked Affair Also Impressive
LOS ALAMITOS, CA—JUNE 10, 2018—
For the second time this year, Reliance Ranches' homebred SC Money Maker posted the fastest qualifying time to a major futurity at Los Alamitos Race Course, this time by delivering the top time to the Grade 1, $1,060,000 Ed Burke Million Futurity on Sunday night.
Ridden by Oscar Peinado for trainer Mike Robbins, SC Money Maker was stellar in the second of 11 trials, as he covered the 350 yards in a sizzling :17.457 while winning his heat by a ½ length over Rosenthal Ranches LLC's Powerful Favorite. SC Money Maker had previously earned the honor of being the fastest qualifier to the Grade 2 Robert Adair Kindergarten Futurity.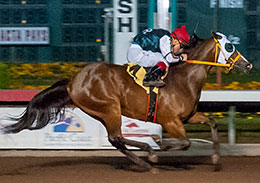 Kindergarten Futurity(G2) winner Wicked Affair was the first of three qualifiers for jockey Jesus Ayala.
© Scott Martinez
Ninety-two horses competed in the Ed Burke Million Futurity trials with the horses with the 10 fastest times set to return for the rich final here on Sunday, June 24. In the final, SC Money Maker will look to avenge his fifth place finish in the Robert Adair Kindergarten when he faces a field that will include the winner of that race, Legacy Ranch's Wicked Affair.
The latter was just as impressive in her Ed Burke trials, as she posted the evening's second fastest qualifying time of :17.501 while posting a completely dominant 2 ¼ length victory over her rivals.
CLICK HERE for a complete list of qualifiers with times, sires, dams, owners, breeders, trainers and jockeys.
SC Money Maker posted his third win in five starts thanks to his wire-to-wire trials victory from post number four. The bay gelding by Pyc Paint Your Wagon rocketed out of the gates and had a 1 ¼ length led early on. He cruised from there as the 1-2 favorite.
"He's about as consistent as you'd want," Robbins said. "You don't have to ask him to run. He does it all on his own."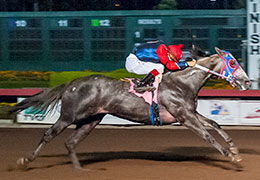 A sister to two champions, Wave Her Down posted the fourth fastest time in the final trial Sunday night.
© Scott Martinez
SC Money Maker was bumped around hard in the Robert Adair Kindergarten final, but he had his "A" game once again in this trial.
"He had some issues (after the Kindergarten)," Robbins said. "He had a foot that was bothering him. When they ran over him, they cut up his leg a little bit. We had to work on that, not bad, but we had to work on that. He had a few minor issues, but nothing serious."
So how did he look after his trial win?
"Tired," Robbins said with a laugh. "First time he has gone 350 and he puts everything into it. He's always tired when he comes back."
With leading Quarter Horse rider Jesus Rios Ayala up for trainer Terry Knight, Wicked Affair was wicked fast when posting her third victory in four starts. She did bump leaving the gate, but then flew from there to lead by a length, then two, before crossing the wire well clear of her closest challenger, Corona By Corona. The One Sweet Jess filly was ¾ length winner in the $322,000 Robert Adair Kindergarten final on May 20, but this was her best race yet.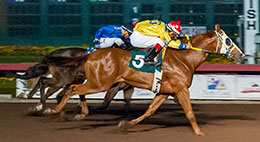 Dexter (#5), Jess Macho Corona(#2) and Striver(#3) all qualified from the seventh trial on Sunday.
© Scott Martinez
"Sometimes when they win those big races, there's a bounce factor," said Pete Parrella of Legacy Ranch. "We were hoping that she could run like this because I think she had a pretty bad start (in the Kindergarten). We're just tickled that she could perform. I just think that she's something special. According to our jockey, she had a little something left in the tank. This may have been her best race. There's a lot of good horses, it'll just be a matter of whether luck is on our side."
In addition to Wicked Affair, Legacy Ranch will also have Mister Appolitical in the final after the homebred won the eighth trial by ¾ lengths in route to the 10th fastest qualifying time. Rios Ayala was aboard the gelding, who had previously finished third in his racing debut here on May 19 – the evening prior to Wicked Affair's Robert Adair Kindergarten win. Three weeks later and the stablemates will now look forward to sharing the starting gate in a million dollar race.
Rosenthal Ranches' Powerful Favorite, whose older brother, The Revenant, is a four-time graded stakes finalists, finished as the third fastest qualifier and was only 7/1000ths of a second from being the second fastest qualifier. Eduardo Nicasio piloted the Favorite Cartel gelding for trainer Chris O'Dell.
"SC Money Maker is fast and has a lot of experience," O'Dell said. "(Powerful Favorite) doesn't have much experience so I thought he did pretty well. He's only had one other race. He hasn't figured out how to run. There's not too many horses that can make up ground on a horse like SC Money Maker. We were running him down a little bit. I was pleased with the effort. There's always such a tough group of horses in the final. It's just full of superior horses. Whoever breaks clean is going to win the Ed Burke final, that's it. We have to get (Powerful Favorite) better in the gate."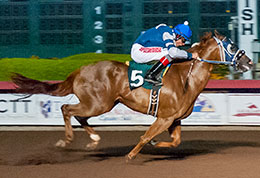 Paddy Riley, under jockey Carlos Huerta, won the 10th trial by 1 ½ lengths to get the 8th fastest qualifying time.
© Scott Martinez
Powerful Favorite's dam, Remember Me Rose, had three horses that ran in million dollar futurities last year. She's got another one now with Powerful Favorite.
Nicasio was also aboard Howard Nichols' Dexxter, who posted the fifth fastest qualifying time after winning trial seven in :17.601. Trained by Jaime Gomez, who is a four-time winner of the Ed Burke Million, Dexxter won his heat by a ½ length over Turner Farms' Jess Macho Corona, who also qualified to the Ed Burke final.
Sired by Corona Cartel, Dexxter is out of Tres Of Linda, the winner the Charger Bar Handicap in 2013. The Utah-bred gelding is now a perfect two-for-two heading into the Ed Burke final after previously winning his maiden race by a length. Going back to Gomez's success in this race, the trainer has won it with Higher Fire in 2005, Carters Cartel in 2007, LD Fire in a dead-heat with Streakin Laquinta in 2009, and Chazaq in 2016.
Jeff and Kim Pitcher's Wave Her Down was a gray lightning bolt in the 11th trial, as she flew in the final 100 yards to go from leading by a ½ length to winning by an impressive two lengths in the fourth fastest qualifying time of :17.561. The First Down Dash filly has also the breeding in the world, as she comes from a long line of stakes winners headed by 2006 AQHA World Champion Wave Carver and multiple AQHA divisional champion Ocean Runaway, the richest horses ever sired by First Down Dash with $1,642,498. Wave Her Down will now look to join the list of more than 80 Grade 1 winners sired by legendary First Down when she races in the Ed Burke final.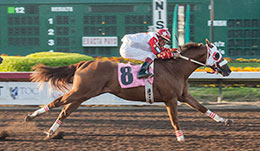 Apollitical Pence, under jockey Eduardo Nicasio, romped to a 1 ¼ length win in the eighth trial Sunday.
© Scott Martinez
"We've always dreamed of having one like this and she might be the one," Jeff Pitcher said. "John Sperry had Paul Jones buy this filly for him at the Ruidoso Sale last year. He kind of willed her to us (after his death). That's how we acquired her. Kim and I run Paul's ranch. We break all the babies. We start them. It's a big deal, but we appreciate Paul for giving us the opportunity."
"It's fun to be around them and see them mature," Kim added. "To see them step up and do these kind of things, it really is amazing."
"Right off the bat, she's done everything right," Jeff Pitcher said of Wave Her Down. "She's very smart and trained nice right from the start. She's always done well."
Juan Carlos Chavez's Striver, the runner-up in the Robert Adair Kindergarten despite a very troubled journey, finished with the seventh fastest time after running third to Dexxter and Jess Macho Corona. Cesar Franco rode the filly for trainer Scott Willoughby.
On a night of impressive performances, JGA Racing Stables, Inc's Paddy Riley looked great when winning the 10th trial by a 1 ½ lengths in the eighth fastest clocking of :17.673. Carlos Huerta rode the Apollitical Jess gelding for trainer Juan Aleman.
Mister Apollitical, under jockey Jesus Ayala, cruises into the final Ed Burke Million qualifying spot in the eighth trial.
© Scott Martinez
"He finally ran straight," Aleman said. "He got bumped a little bit at the start, but I've always known that this horse can finish well. I think he was the 11th fastest qualifier to the Kindergarten with trouble, so I knew that if he could get out decent and go straight that he had a chance to get in. We picked this horse out in Ruidoso. He's not the biggest horse, but he's well put together. He's by
Apollitical Jess
and out of a
Tres Seis
mare (Dicey Riley) and they've been hitting."
The list of qualifiers was completed by the Monty Arrossa-trained Apollitical Pence, racing for lessee Matthew Dunn. Nicasio also piloted the Apollitical Jess gelding, who won the third trial by 1 ¼ lengths. He arrived at Los Alamitos after running third in the Laico Breeders Stakes at Remington Park on April 21.
The second 10 fastest qualifiers from Sunday night are preferred invites to the $30,000 Ed Burke Million Juvenile that will also run back on Sunday, June 24. CLICK HERE for that list.
* * * * * * * * * * * * * * *
A few breeding notes from the Ed Burke trials; Pyc Paint Your Wagon is the sire of SC Money Maker and is one of seven sires with at least Ed Burke finalist. SC Money Maker's dam is the two-time champion aged mare Spit Curl Diva. Apollitical Jess will be the most heavily represented with three finalists in the form of Paddy Riley, Apollitical Pence, and Mister Appollitical. The legendary Corona Cartel is the sire of two Ed Burke finalists in Dexxter and Jess Macho Corona. Corona Cartel is the sire of the last two Ed Burke Million winners in KVN Corona (2017) and Chazaq (2016). He is also the sire of 2007 Ed Burke winner Carters Cartel and 2013 winner Five Bar Cartel.
First Down Dash, the sport's all-time leading stallion, sired the promising filly Wave Her Down, whose gray color is reminiscent of that of her champion brothers' Wave Carver and Ocean Runaway. First Down Dash is the sire of eight past Ed Burke winners, a list that includes millionaires Corona Cash (1997), Corona Kool (1999) and FDD Dynasty (2006). His last Ed Burke winner is First Down Illusion in 2010. Wave Her Down is out of the 2005 AQHA Broodmare of the Year Runaway Wave.
Ten years after Foose won the Ed Burke Million in 2008, the brilliant sire will be represented by Robert Adair Kindergarten runner-up Striver in this year's running. The other two stallions with runners in this year's Ed Burke are One Sweet Jess (Wicked Affair) and Favorite Cartel (Powerful Favorite).
* * * * * * * * * * * * * * *
The all-sources handle for the Ed Burke Million Trials program was a season-high $1,915,080. The previous high for the meet of $1,881,473 was set on the night of the Robert Adair Kindergarten Futurity trials on Sunday, May 6. The all-sources handle include the simulcast races featured on the night. For the Ed Burke Million trials card, $1,745,757 was wagered on the 11 trials. That figured included a track record of $203,647 wagered in the Late Pick Four on Sunday night. In addition, the early Pick Four handled a strong $190,700..
* * * * * * * * * * * * * * *
Courtesy of www.losalamitos.com.