RACING THIS WEEK
FEATURES
SERVICES
Sixes Crystal, under jockey Jose Ortiz, setting the fastest qualifying time for the Grade 1, $801,564 Rainbow Derby during Mike Smith Victory Celebration Day at Ruidoso Downs.

© Gay Harris / Ruidoso Downs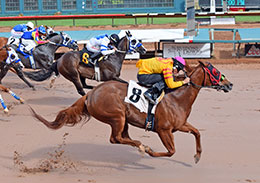 Sixes Crystal Tops Rainbow Derby Qualifiers During Mike Smith Celebration at Ruidoso Downs.
RUIDOSO DOWNS, NM—JULY 8, 2018—
Victor Diaz's Sixes Crystal set the fastest qualifying time to the Grade 1, $801,564 Rainbow Derby during Mike Smith Victory Celebration Day at Ruidoso Downs.
New Mexico-native Smith, 52 won this year's Triple Crown aboard Justify and came to Ruidoso Downs to be recognized for the feat. New Mexico Governor Susana Martinez declared July 8th as always being Mike Smith Day in New Mexico.
Smith then told the Ruidoso Downs' crowd that, "Everyone in New Mexico now has July 8th off." Also, Congressman Steve Pearce, who is running to succeed Martinez as governor, presented Smith with a flag that flew over the United States Capitol.
"I can't be more proud and happy to be from New Mexico," Smith said. "It's pretty incredible. I'm very excited to be here."
Smith mentioned Ruidoso Downs on national television while riding Justify back to the winner's circle following their win in the Belmont Stakes that secured the Triple Crown. "He left there like he was going 440 yards at Ruidoso, New Mexico," Smith said.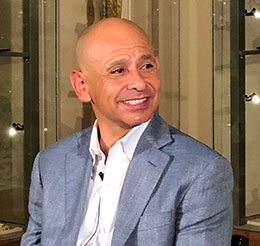 Triple Crown winning jockey Mike Smith was recognized at Ruidoso Downs Sunday.
© Ty Wyant
He explained what preceded that statement. "I told (trainer) Bob (Baffert) that morning that I was going to leave (the gate) like it was the All American Futurity," Smith said. "I think that was in the back of my mind when I said that (on television)."
Smith has never ridden a race at Ruidoso Downs, however, said, "I picked up tickets off the ground here as a kid and asked for goggles from jockeys." He did gallop horses at Ruidoso Downs.
"I've thought about being the only person to win the Kentucky Derby and the All American Futurity. I don't know if I can hang on for the first jump," Smith quipped.
A primary purpose of Smith's visit was to benefit the Permanently Disabled Jockeys Fund (PDJF). "The PDJF has a special place in my heart," Smith said. All proceeds from poster sales went to the PDJF. The line for autographed posters went halfway down the length of the Ruidoso Downs' grandstand when he started to sign posters.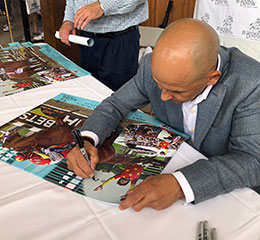 Jockey Mike Smith signed posters on Sunday at Ruidoso Downs. All proceeds from poster sales went to the PDJF.
© Ty Wyant
On the track, Sixes Crystal stepped up as a filly to be dealt with in the 440-yard Rainbow Derby on July 21.
Sixes Crystal, racing in the ninth and final trial, raced over a muddy and sealed track in :21.662 to top the 10 qualifiers. A daughter of Mr Jess Perry purchased for $27,000 at the Ruidoso Select Yearling Sale, Sixes Crystal won by one-half length over second-fastest qualifier Flight Force (:21.749). Hawkeye (:21.862), the third-place horse in that trial, is the ninth-fastest qualifier.
A daughter of Mr Jess Perry, Sixes Crystal won her maiden two starts before her Rainbow Derby trial score.
"She is starting to develop," owner Diaz said. "She has always been asking for more ground."
Scott Bryant and Joe Dee Brooks' Flight Force, a gelding by One Famous Eagle, had raced in the Grade 2, $215,000 Hobbs America Futurity and the $100,000 Mr Jess Perry.
Bobby Cox's homebred Hawkeye, another gelding by One Dashing Eagle, qualified for last year's Grade 1, $3 million All American Futurity.
Darling Farms' Df Aj Green Leaves, the third-fastest qualifier over fifth-fastest qualifier Hotstepper, won their trial by a neck as the 11-10 favorite. Hotstepper was the 6-5 second choice.
Df Aj Green Leaves, a $40,000 supplemental entrant, covered the quarter mile in :21.758 with Rodrigo Sigala Vallejo aboard.
The daughter of Apollitical Jess, Df Aj Green Leaves won the $317,000 Remington Park Oklahoma-bred Derby and was a troubled second in the $364,000 Heritage Place Derby.
"She got run over in the Heritage Place Derby," trainer Trey Ellis said. "Being supplemented put more pressure on me. She has only been here three weeks and needed this race."
Owned by R.D. Hubbard, Johnny Cope, Ray Willis and Butch Southway, Hotstepper was second by a neck in the Grade 1, $874,000 Texas Classic Futurity and was third in the Mr Jess Perry. Another One Famous Eagle-sired gelding, Hotstepper is trained by Sleepy Gilbreath and was ridden by Cody Jensen, who is recovering from injuries and Hotstepper was his only mount in the Rainbow Derby trials.
Renee Wilson and Raymond Merrill's Piloto Strong was third in last year's $525,000 Oklahoma Futurity. The Mr Piloto gelding is trained by Clint Crawford and was ridden by Agustin Silva.
Rogelio Marguez Jr. and Kathy Robinson's supplemental nominee Political Attraction raced to a one-half length win over Grade 1, $759,000 Ruidoso Derby winner Jess Move You. Political Attraction was the sixth-fastest qualifier at :21.804 while Jess Move You squeezed into the Rainbow Derby as the 10th-fastest qualifier with a :21.867 time.
"He's not the biggest fan of a muddy track," Political Attraction's jockey James Flores said. "He had a poor break and just mowed them down."
The Apolltical Jess-sired gelding came off a one-half length win in the $70,000 Boyd Morris Memorial Handicap at Remington Park.
CLICK HERE for the top 10 Rainbow Derby qualifiers, their times, sires, dams, owners, breeders, trainers and jockeys.
The next 10-fastest runners from the trials gain preference to race in the $100,000 Corona Cartel, also on July 21. For the list of those horses CLICK HERE.
* * * * * * * * * * * * * * * *
For additional Ruidoso Downs information, go to the new raceruidoso.com, visit the Ruidoso Downs Race Track and Casino Facebook page and follow Ruidoso Downs on Twitter @RuiPressBox.
For Ruidoso Downs racing news CLICK HERE.