RACING THIS WEEK
FEATURES
SERVICES
Flash And Roll, under jockey G.R. Carter, Jr., on her way to victory in the $1.8 million Los Alamitos Two Million Futurity Sunday night.

© Scott Martinez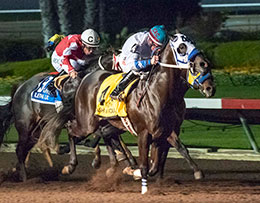 Flash And Roll Goes A Perfect Four For Four Los Alamitos, Wins The Two Million Futurity
LOS ALAMITOS, CA—DECEMBER 16, 2018—
With an incredible burst of speed out of the gate, Scott Bryant's Flash And Roll took control of the Grade 1, $1,878,425 Los Alamitos Two Million Futurity right from the start and never looked back on the way to winning California's richest horse race of 2018 by 1-½ lengths over fastest qualifier Ali Babe
Foose
Sunday night.
Ridden by champion jockey G.R. Carter, Jr. for trainer Justin Joiner, Flash And Roll's had a ¾ length lead after the first call of the race and it was clear that she was separating herself from the competition with each one of her strides. The race for first place was pretty much over after the first 100 yards of the 400-yard dash.
"She's one of the fastest horses I've ridden," said Carter, who is a 10-time AQHA champion jockey. "I've ridden a lot of great fast horses away from the gate, but she's right up at the top of the list. There were a lot of nice horses in this race tonight, but she just spanked them the first two jumps and ran away from them. There's nothing like that feeling when you are running away from the field of those kind of horses knowing that you have the race won before you go past the gap. You're not even halfway through the race and you know you have it won. I think she's just that talented."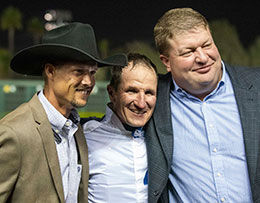 Winning owner Scott Bryant (right) with Justin Joiner and G.R. Carter, Jr.
© Scott Martinez
With six wins from seven career starts, Flash And Roll has been spectacular, especially at Los Alamitos where she's won all four of her starts this year in wire-to-wire fashion. Joiner, who added the Los Alamitos Two Million Futurity to his training victory in the Champion of Champions on Saturday night, used another word to describe the Julianna Hawn Holt-bred filly.
"She's been perfect," he said. "She goes on the track and warms up perfect. She enters the gate perfect and she runs perfect. It's hard to beat that and she has the speed to go along with it."
In her four starts at Los Alamitos, the closest any horse has been to Flash And Roll has been a half-length. That was the winning margin when the California-bred filly won the Grade 1 Golden State Million Futurity on November 4.
Flash And Roll in the Los Alamitos walking ring prior to "jockey's up" in the Los Alamitos Two Million Futurity.
© Scott Martinez
Her other wins out here have been by two lengths in the trials to the Golden and by 1-½ lengths in the Two Million trials. Four starts, four wins, all in convincing fashion.
"In the (Two Million) trials she got a little bit hot just like she had in the previous two races," Carter added. "After she ran so big in the trials I told Mike (Joiner) and Justin, 'I don't care if she got hot or not, don't change anything. Just do it just like you have before.' She was just a little bit hot tonight, but she performed flawlessly. She ran a flawless race in the trials and then tonight she just left ¾ in the front. She just ran away from them. She had a 50-year-old jockey fixing to retire on her and she just took me to the front. I reached and whipped her a couple of times and she just accelerated away from there. She's pretty special. My helmet cover stayed on too."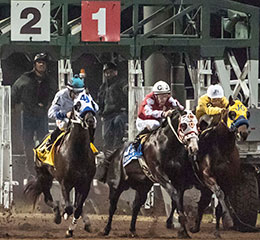 The top three Los Alamitos Two Million Futurity finishers (from left) Flash And Roll, Lethal Lil and Ali Babe
Foose
leave the starting gate.
© Austin Swartz
Bryant has raced horses in partnerships for years, but at the 2017 Ruidoso Yearling Sale, he decided to buy a filly of his own.
"She's the first filly I've owned alone," he said. "I knew I wanted a filly bred by Julianna Hawn Holt. "She had talent. We saw that early on with her. Justin described it really well. We knew she had heart. She ran the trials to the All American, but it went from a very nice headwind to a really large tailwind and it blew us off the board. She's come to California and has been outstanding. G.R. is the man. He says he's retiring, but it doesn't matter. He's the man."
Justin and Lene Joiner with his Champion of Champions and Los Alamitos Two Million Futurity winning trainer stakes buckles.
© Scott Martinez
Sent off as the 6-5 favorite, Flash And Roll earned $771,299 for the win to take her career earnings to $1,213,754. She covered the distance in :19.543, the fastest winning time in this race since 2010.
For the Joiners, what a magical weekend it has been, as Justin Joiner won the Champion of Champions with Bodacious Eagle and the $30,000 Los Alamitos Invitational Stakes, which serves as the consolation stakes for this race with Shaun and R.D. Hubbard's Fyre Wall. While his father, Mike Joiner, had previously trained Flash And Roll at Ruidoso Downs, Justin's experience with the filly dates back to the late months of 2017.
"I broke her from scratch," the young trainer said. "As a matter of fact this is the first year in 18 years that I have not started the colts and I was a little nervous about it. I have a good guy at home that does a wonderful job. He's been there three or four years now. I'm not worried about him. It's just not being there more than anything.
"She ran in the All American trials and the weather beat her a little bit," he added. "Since she's been out here, she's been nothing but perfect. I've had Jason Hart out her galloping her because she'll go out there buck and play. I'm not sure how many guys I can get to stay on her in the morning and me still get to turn her loose. Jason has done a great job. Her groom, Sy Broussard, he loves that filly to death. She's been professional."
The winning connections of Flash N Roll.
© Scott Martinez
It was Joiner who walked the filly from his barn at Los Alamitos to the saddling paddock.
"She does a little better with me," Joiner continued. "My groom, Sy Broussard, tends to wash out a little bit, but that's because he likes his job and loves this filly. I even gave him the option tonight. I said 'You want me lead her back there or do you want to lead her?' He said 'I have no arguments, you take her up there.' I wasn't worried about her on the track. It's getting her to the paddock and in the paddock. First time we led her up here she got a little too hot so from then on I decided to do it myself. If something goes wrong then at least it's my fault."
On the night of the Two Million, everything went perfectly for the outstanding Flash And Roll.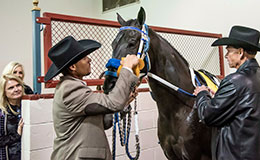 Jaime Bryant and Linda Joiner (left) lookson as trainers Justin and Mike Joiner adjust the bridle on Flash And Roll prior the filly's Grade 1 win in the Los Alamitos Two Million Futurity.
© Scott Martinez
"G.R. knows that if he gets the filly out of there, we've never had a problem with her finishing a race," Joiner said. "She's already run in the All American trials, which is 40 yards farther. This filly is about 950 pounds the best I can guess, and I think she can run all day long. I'm going to give these horses a few days off. We'll probably leave in the middle of next week. I'm going to let them rest. My wife is out of school so she'll drive back home with me.
"(Flash And Roll) will go to Sunland Park and get a break out there at a place we like to turn horses out. I x-rayed her after the (Two Million) trials. I couldn't find a pimple on her. As she walks off today I think we'll be in the same shape. We'll get her ready for the derby trials at Ruidoso Downs."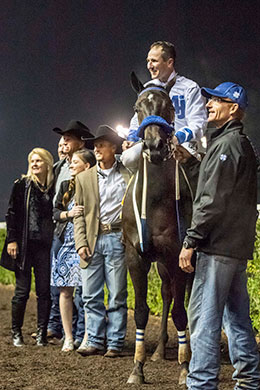 The Joiners, G.R. Carter and assistant Sy Broussard with Flash And Roll.
© Scott Martinez
And now let the conversation begin for the 2018 championship honors.
"I think they'll have to take a hard consideration at her," Joiner added . "I think this filly has proven that she's very capable of outrunning anything she goes against. She has the record to prove it. She's won back-to-back futurities against class horses."
Quarter Horse racing fans on the West Coast will be happy to hear that Bryant is looking forward to seeing Flash And Roll race again at Los Alamitos in 2019.
"We hope to be back for the Los Alamitos Super Derby," he said. "This has been a wonderful place. It's been a totally great experience and it's quite beautiful here. I know we've been lucky, but it's been a great experience."
"Having the Joiners as trainers is like having family," added Jaime Bryant, who is Scott's wife. "They are solid, amazing people. You become family. You become unified for sure."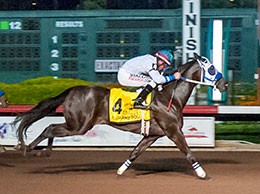 Flash And Roll crosses the Los Alamitos Two Million Futurity(G1) finish line.
© Amber Mendez
Ridden by Jose Nicasio for owner Cesar Dabdoub, Ali Babe
Foose
was second the entire race for trainer Jaime Gomez. The
Foose
colt earned $312,193 for his runner-up effort to take his career earnings to $408,613. The Steve Burns-bred runner had previously raced in the Grade 1 Golden State Million Futurity and Grade 2 PCQHRA Breeders Futurity.
La Feliz Montana LLC's Lethal Lil finished a nose behind Ali Babe Foose for second place. The Corona Cartel filly earned $220,371 for her third place finish. Cody Jensen piloted P.K. Thomas-bred filly for trainer Chris O'Dell.
Ed Allred's Transcend earned $128,550 for running fourth, while Dunn Ranch's Apollitical Pence banked $110,186 for his fifth place finish.
Powerful Favorite, Mister Appolitical, Dexxter, Seaduction, and Deceiver completed the field.
* * * * * * * * * * * * * * * * *
Courtesy of www.losalamitos.com.