RACING THIS WEEK
FEATURES
SERVICES
Los Alamitos Division of the Race Track Chaplaincy of America third annual online stallion service auction kicks off January 2.

© Scott Martinez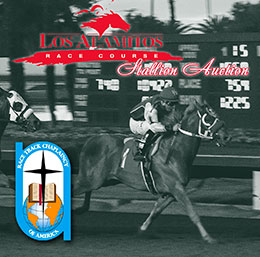 Los Alamitos RTCA Online Stallion Service Auction To Kick Off On January 2
LOS ALAMITOS, CA—DECEMBER 30, 2018—
The Los Alamitos Division of the Race Track Chaplaincy of America will host its 3rd online stallion service auction to raise funds towards its efforts to develop programs to benefit the spiritual needs of those that work in the barn area with racehorses at Los Alamitos Race Course.
Stallion owners have donated the breeding to many of the top Quarter Horse stallions to support the Los Alamitos RTCA with 100 percent of the proceeds from the auction to be used towards the local chaplaincy programs.
The Los Alamitos RTCA stallion service auction page can be visited at losalamitosrtcaauction.com. Bidding on the stallions will continue through Thursday, January 17 at 3 p.m. (Pacific).
In alphabetical order, the following stallions are currently listed on the Los Alamitos RTCA stallion service auction page:
Bf Farm Boss, Corona Czech, Coronado Cartel, Docs Best Card, Eye On Corona, Furyofthewind, Habits Secret, Hawkinson, Hawkish, Heat Warning, Hez Our Secret, Jess Being Valiant, Kvn Corona, Big Lew, Mr Ease Cartel, Mr Pyc To You, Oceans Apart, Parsons Rock, Power Jam (TB), Seperate Interest, Slye By Design (Barrel Racing Stallion), Texas Icon and Two Corona Special.
For more information, visit losalamitosrtcaauction.com or e-mail larace@losalamitos.com.
Courtesy of www.losalamitos.com.