RACING THIS WEEK
FEATURES
SERVICES
World Champion Stolis Winner, the industry's #2 All-Time Leading Money Earner, with AQHA Racing Champion jockey G.R. Carter. Jr.

© Coady Photography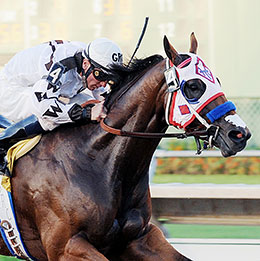 Where Are They Now? Stolis Winner, Pride and Joy of Breeder and QH Industry Leader Jerry Windham
By Martha Claussen
COLLEGE STATION, TX—MAY 15, 2020—Growing up in Hamilton, Texas, a town of less than 3,000 residents, Jerry Windham did not envision that he would become one of the top Quarter Horse breeders in the industry.
As a teen, he was focused on his studies and on sports, playing both football and basketball. The latter earned him a scholarship to Texas A&M University in College Station.
After graduating with a degree in civil engineering, Windham and his wife, Pat, purchased a cattle and horse ranch in College Station. As one of the country's most respected Quarter Horsemen, Windham ranks as the fifth-leading breeder in AQHA history. His most famous homebred is 2008 All American Futurity champion, Stolis Winner.
The Beginning
Windham bred his stakes-placed mare, Veva Jean to Stoli, who won the 2001 All American Derby (G1) and was honored as AQHA Champion 3-year-old that year. Stolis Winner was foaled at Windham Ranch, arriving on February 7, 2006.
"He was a rangy colt and one I always felt would be the right kind for New Mexico," recalled Windham.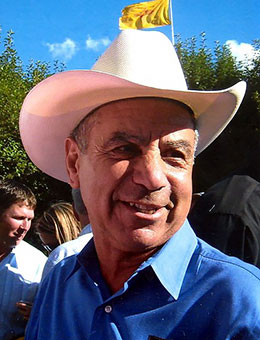 Tommy Zarate played an integral role breaking and training babies at Windham Ranch.
ca. 2008
Stoli
, who now stands as the 31st-ranked sire by earnings, was not a hot commodity early in his stud career. That ended up making a big difference in the future of Stolis Winner. Windham consigned him to the 2007 Heritage Place Yearling Sale, setting a $50,000 reserve. He bought him back for $30,000.
"Maybe if he would have brought $50,000, I would have sold him," Windham said.
Stolis Winner was gelded prior to making his debut at Manor Downs in Austin, Texas on March 30, 2008. Gaspar Garcia had the mount and guided the bay gelding to victory in the 300-yard dash for accredited Texas-bred 2-year-olds.
Tommy Zarate, who played an integral role breaking and conditioning babies at Windham Ranch, trained Stolis Winner in his first two races. He won at first asking, but even though he ran second in his subsequent start, Windham and others took notice.
"He got bumped, but that was the start that showed us he was a racehorse," said Windham. "I had several offers, including one for $100,000, but knew I could not sell him."
Stolis Winner was sent to Remington Park in Oklahoma City in preparation for trials for the $1.1 million Heritage Place Futurity (G1). Training duties at Remington Park went to Heath Taylor, and like so many in the industry, had high regard for Zarate.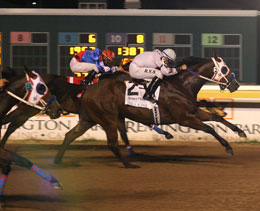 The first of three grade 1 futurity wins for Stolis Winner came in the Heritage Place Futurity(G1) at Remington Park.
© Dustin Orona Photography
"Tommy was as good of a person and team player as anyone I have ever known," said Taylor. "He was an excellent horseman and he and Jerry were committed to supporting the wellbeing of each of the Windham horses."
Windham and Zarate worked together for 30 years and the emotion is evident when Zarate, who passed away in 2015, is mentioned.
"Tommy was as fine of a guy you could have in this business," stated Windham.
Hall of Fame jockey G. R. Carter recalls the first time he got a glimpse of Stolis Winner.
"Boy, that's a big, good looking horse," he recalled.
Carter rode Stolis Winner to victory in his trial to the $1.1 million Heritage Place Futurity (G1), setting the fourth-fastest qualifying time. He also qualified another Windham homebred, Jess Zoomin, who won his 350-yard trial in a track record setting time of :17.320.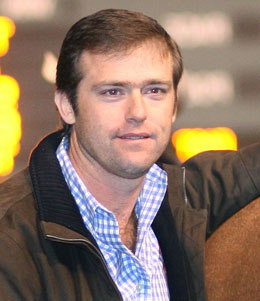 Trainer M. Heath Taylor took over training duties for Stolis Winner prior to the Heritage Place Futurity(G1) trials at Remington Park.
© Dustin Orona Photography
Choosing mounts for a final futurity is never an easy task for leading riders who usually have the luxury of qualifying multiple runners. Carter opted for
Jess Zoomin
and Windham gave the call on Stolis Winner to Rodrigo Vallejo.
Dismissed by the betting public, Stolis Winner led gate-to-wire, covering 350 yards in :17.347, earning a 105 speed index. Jess Zoomin finished second as the betting favorite; Stolis Winner rewarded his backers with a $51 win payout.
"Stolis Winner ran a pretty good race in his trial, but I settled on Jess Zoomin for the final," he recalled. "Stolis Winner just flat out beat me."
It was an excellent final for Taylor, whose runners completed the trifecta in the prestigious race.
"Jess Zoomin shattered the track record in the Heritage Place trials and looked invincible," acknowledged Taylor. "But you could see how Stolis Winner was improving by leaps and bounds in every start."
The Road to the All American Futurity
Stolis Winner shipped to Ruidoso and won his trial to the $625,000 Rainbow Futurity (G1) on July 3 with Carter in the saddle. A similar dilemma for choosing a mount for the final ensued for Carter. Even though Stolis Winner won his trial easily, Carter also piloted the explosive Fast Prize Zoom who won her trial by an astounding five lengths, setting a new world record.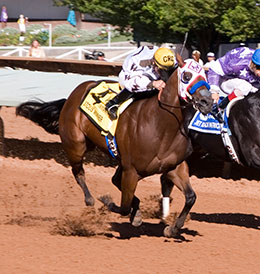 Stolis Winner, under champion jockey G.R. Carter, Jr. winning the 2008 All American Futurity(G1) at Ruidoso Downs.
© Robert Edwards
Faced with an ever more difficult choice, Carter opted for the filly, who was sent off as the betting choice, but weakened, finishing fourth.
"Stolis Winner kicked my ass a second time," stated Carter.
Carter's agony was somewhat diffused by the fact that Windham accepted his decision graciously and had tremendous faith in jockey Rodrigo Vallejo.
But when it came time to make the call for the All American Futurity, Carter did not hesitate in choosing Stolis Winner.
"I liked his draw and was really confident," he explained. "If I had turned him down one more time, who knows if I would ever have gotten the mount again. He was in top form; just left there and marched to the wire."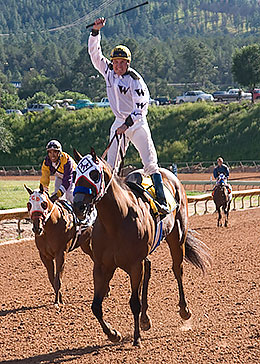 AQHA Racing Champion jockey G.R. Carter, Jr. returns after winning the All American Futurity(G1) with Stolis Winner.
© Robert Edwards
Carter won his first All American Futurity in 1998 with Falling In Loveagain and described it as "very emotional and almost surreal".
But he acknowledges how much he truly enjoyed his second victory with Stolis Winner. It was made even more special to see the pride and joy of Jerry Windham, who finally bred and owned his first All American champion.
Windham originally planned to give Stolis Winner a break and gear up for his Derby season, but Taylor compelled him to consider finishing the year with a run in the Texas Classic Futurity (G1) at Lone Star Park. He won his trial on November 15 in commanding fashion but was a "little off" in the days that followed. The decision was made to send Stolis Winner to Dr. Tommy Hays in Elgin for evaluation. He had suffered a sesamoid ankle injury and surgery was performed.
Had Stolis Winner won the Texas Classic Futurity, he would have surpassed the 2-year-old earnings record of Refrigerator.
"As amazing as it would have been to pass Refrigerator, there was no hesitation in pulling him from the final," said Taylor.
The inability to compete in the Texas Classic Futurity was not the only low point of the year for the All American Futurity champion. In October, Stolis Winner tested positive for caffeine, which was classified as a banned substance in New Mexico.
Richard and Janelle Simon, owners of Jet Black Patriot, the runner-up to Stolis Winner in the All American Futurity final, filed a federal lawsuit seeking damages and asking that their horse be declared the rightful winner of the race.
They were denied, but appealed in subsequent lawsuits against Jerry Windham, Pat Windham and Heath Taylor that continued for over a decade. None were upheld.
Derby Season and Additional Stakes Wins
After his successful recovery from surgery, Stolis Winner began training for his 3-year-old campaign. He qualified for the All American Derby (G1) and won the Texas Classic Derby (G1) at Lone Star Park.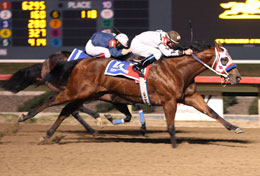 Stolis Winner winning the Grade 1 Texas Classic Derby at Lone Star Park.
© Dustin Orona Photography
Windham had a nagging feeling that even though his champion was sound, he did not finish as well as an older horse as he had as a 2-year-old.
"Following his 2-year-old season, he stumbled out of the gate in 70% of his races," noted Windham. "He still made $400,000 as a 3-year-old and won graded stakes over the next two years."
Stolis Winner made his final start in the 2011 AQHA Challenge Championship (G1) at Los Alamitos, where he finished 11th.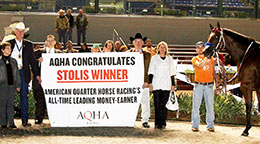 After more than 20 years, Stolis Winner broke Refrigerator's All-Time Leading Money Earning Quarter Horse record.
© Duston Orona Photography
"It was a big disappointment," stated Windham. "It is a long haul to California and he just did not have a good race."
Stolis Winner completed his career with 13 wins from 29 starts and earnings of $2,242,661. He remains the second-leading Quarter Horse earner in AQHA history behind another All American Futurity champion, Ochoa, who banked $2,781,365.
Behind Every Great Man
Those fortunate enough to know Jerry Windham are double lucky to meet his wife, Pat. The 6'7" Windham and the 5' 1" Pat were high school sweethearts in Hamilton, Texas and will celebrate their 60th wedding anniversary this September. The couple have three children: Ray, Brian and Sandra.
Maybe diminutive in size, Pat's personality is full wattage and while Jerry prefers to let his horses and racing industry service do the talking, Pat is outgoing and very entertaining.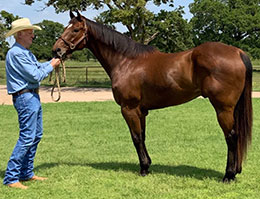 Stolis Winner today with owner-breeder Jerry Windham at the Windham Ranch.
© Pat Windham
"I always thought I was as tall as Jerry until I saw a picture," she quipped.
Pat, who grew up around horses, has worked very hard to support Windham Ranch. Jerry calls her the "best night watchman ever" and Taylor gives her well-deserved credit.
"She's so unbelievably nice and supportive," he stated. "All owners are thrilled when you win; some do not handle defeat very well. Pat is so gracious and always says the right thing whether you win or lose a race."
Stolis Winner is enjoying retirement at Windham Ranch, which boasts up to 100 head of cattle, 15 mares and currently, around 20 foals.
"He still thinks he's pretty cute out there," added Pat.
Pat Windham has seen her husband devote countless hours to serving the Quarter Horse industry, both on a statewide and national level. He is a longtime member of the Texas Quarter Horse Association, elected president in 1995. He is a past president of the American Quarter Horse Association (AQHA) and served on many of its committees. Windham was inducted into the American Quarter Horse Hall of Fame in 2006.
It is the dream of every breeder, owner, trainer and jockey to win the All American Futurity. The memories are still vivid for Windham, Taylor and Carter.
"Stolis Winner had the breeding, thanks to Jerry; the conformation and the biggest thing: the heart, stated Carter. "I've ridden some of the best in my career and I could always feel him under me giving me all he had. "He was the complete package."
The victory of Stolis Winner twelve years ago will forever be a part of a very special team behind the incomparable Texas-bred.
* * * * * * * * * * * *
This is the second feature of StallioneSearch's series profiling legendary Quarter Horse champions, who have provided their connections and Quarter Horse racing fans with amazing thrills and memories of a lifetime.
Entitled Where Are They Now? and written by regional racing publicist and writer, Martha Claussen, the series began with Ochoa, who holds the distinction as the highest money earner in the history of Quarter Horse racing. In the months to come, Claussen will also delve into how the following exceptional athletes reached the pinnacle of their success:
PJ Chick In Black
Heza Dasha Fire
Blues Girl Too
We hope you enjoy our series and look forward to your comments and feedback!
David Smith
* * * * * * * * * * * *
Martha Claussen served as publicity director at Sam Houston Race Park for ten years. She continues to be active in writing, fan education and Quarter Horse racing publicity in Texas, Louisiana and other regions in North America.