Wednesday, May 22, 2013
Member Stallion Search
Trials for the All Canadian Futurity will have to be rescheduled at Ajax Downs.

Ajax Downs Photo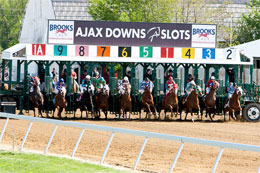 Races Canceled After 3rd Tuesday at Ajax Downs
AJAX, ONT—JULY 31, 2012—
Racing on Tuesday afternoon at Ajax Downs was cancelled, following the 3rd race, due to track conditions, according a report on Equibase.com. Thunderstorms moved into the area during the third race.
Races 4 through 6, trials for the $600,000-added All Canadian Futurity, will have to be rescheduled by the track. The All Canadian Futurity final, for 2-year-old Quarter Horses owned by Canadian residents, is scheduled August 19 at Ajax Downs.
The 10 finalists for the 2012 All Canadian Futurity will be published on StallioneSearch.com's Stakes Qualifiers section as soon as the trials are contested.