RACING THIS WEEK
FEATURES
SERVICES
Sustaining payments for the Texas Classic race series are due Wednesday (Mar. 15).

© Dustin Orona Photography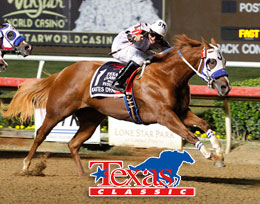 Sustaining Payments for 2017 Texas Classic Series Due March 15
ELGIN, TX—MARCH 14, 2017—
The third sustaining payment for the $1 million-est. Grade 1 Texas Classic Futurity and the $400,000-est. Texas Classic Derby are due Wednesday, March 15th. To remain eligible horsemen must send a $350 payment by that date.
Horsemen and women who missed the original nomination deadline can still enter their horse(s) for an $1,350 late entry fee thru Wednesday.
CLICK HERE to download a nomination form.
Trials for the Texas Classic Futurity will be run October 21 at Lone Star Park and trials for the Texas Classic Derby will be contested October 20. Both finals are set for Saturday, November 11 at the Grand Prairie facility.
For a current roster of horses nominated CLICK HERE.
For additional information visit the TQHA website at tqha.com or call (800) 945-6157 or (512) 458-5202.