RACING THIS WEEK
FEATURES
SERVICES
North Dakota granted two extra days of racing this year at the North Dakota Horse Park in Fargo.

© North Dakota Horse Park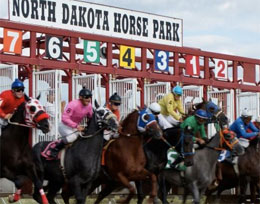 Live Horse Racing Returns To Fargo
FARGO, ND—JULY 14, 2017—
After the state of North Dakota granted Fargo's track two extra days of racing this year, after running a successful six-day meet in 2016, the return of Friday night horse racing at North Dakota Horse Park appears to be a sign that local racing is on the right.
North Dakota Horse Park was granted eight race days for 2017. The first weekend of racing gets underway Saturday, July 15, and Sunday, July 16, followed by the first Friday night race card in four years on Friday, July 21.
Racing will then be held Saturday-Sunday, July 22-23, and the following weekend, Friday-Sunday, July 28-30.
Last year, two groups that run the live horse races at the North Dakota Horse Park, Horse Race North Dakota and the North Dakota Horse Park Foundation, underwent a reorganization after Fargo racing was put on a one-year hiatus in 2015 by the North Dakota Racing Commission.
The Fargo track then crossed the 2016 finish line with record attendance numbers and high betting totals, prompting the commission to grant extra dates in 2017.
State Racing Director Gunner laCour advocated for the commission to grant additional dates earlier this year.
The Racing Commission approved giving the Fargo track $125,000 in purse funds and $225,000 for promotional funds in February, which is about $30,000 more than General Manager Mike Schmitz initially requested for six days of racing.
The Racing Commission sets race dates, and it funds purses and promotions for the North Dakota Horse Park and Chippewa Downs. Funding comes from online betting companies that pay taxes to be licensed in the state.
Horse owners and trainers began arriving at the Fargo track last week. Nearly 200 horses will remain on the grounds throughout the meet, although Schmitz hopes to draw in even more competitors from area tracks who will ship their horses in for the races.
Along with Friday night racing, the Budweiser Clydesdales will also return to the track on Saturday, July 22.