RACING THIS WEEK
FEATURES
SERVICES
An aerial view of the Trinity Meadows near Willow Park, Texas.

© ca. 1990 - Courtesy Wilks Development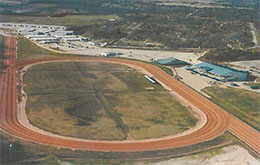 Twenty-Plus Years After Shuttered, Trinity Meadows To Be Torn Down
WILLOW PARK, TX—AUGUST 12, 2017—
According to an article published Friday on the Forth Worth
Star-Telegram.com
website former Quarter Horse track Trinity Meadows near Weatherford, Texas will be torn down the first week of September.
The racetrack has been sitting vacant for more than 20 years.
Trinity Meadows is where horses raced before Lone Star Park opened in Grand Prairie. It has also run under the names Clear Fork Downs and Squaw Creek Downs. But now, as sprawl continues to encroach into Parker County, the history of Trinity Meadows is about to come to a close.
Cisco-based Wilks Development, owners of the property, said remaining 9,000-seat grandstand — easily visible to motorists heading west on Interstate 20 — will be torn down as they transform in the property into a mixed-used development.
Currently there are apartments and a Texas Health Resources hospital fronting westbound Interstate 20, with Trinity Meadows in the background.
Kyle Wilks, president of Wilks Development, said the new development will include more housing to feed the growing retail boom, including the nearby Shops at Willow Park.
Trinity Meadows opened in 1991 as one of the first horse racing venues in Texas to cash in on legalized parimutuel betting. Profits were turned early, but after the Class 1 facility Lone Star Park opened between Fort Worth and Dallas, Trinity Meadows suffered and closed in August 1996.