RACING THIS WEEK
FEATURES
SERVICES
Funeral services will be held Thursday for longtime horseman ''Bill" Bullock in Oklahoma City.

© Dusin Orona Photography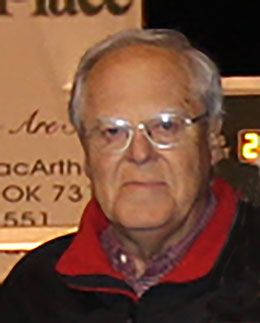 Funeral Services Set Thursday For Dr. William ''Bill'' Bullock
OKLAHOMA CITY, OK—SEPTEMBER 13, 2017—
Funeral services are set Thursday (Sep. 14) in Oklahoma City for Dr. William ''Bill'' Bullock. Bullock, 85 of Yukon, Oklahoma died Monday (Sep. 11).
Services will be held at 10:30 AM at Highland Hills Baptist Church located at 7900 Devore Drive in Oklahoma City. Burial will be held at Chapel Hill Memorial Park following the service.
Dr. Bullock was born in Bethel, North Carolina where he resided until he graduated from high school as Salutatorian in 1950. He went to the University of North Carolina at Chapel Hill.
While completing his undergraduate work, he married Louise Beverly from his home town in 1955. He finished undergrad with a BA in Chemistry, Phi Beta Kappa in 1954. He continued his schooling at UNC receiving his Medical degree in 1958.
He entered the Air Force as a Captain serving in several capacities including Flight Surgeon at Graham AFB in Florida, Director of Professional Service and Director of Aviation Medicine at Perrin AFB in Texas. He furthered his education by receiving his Fellowship in Cardiology in 1967.
In 1967 Bill moved his family to Oklahoma City where he joined several other Cardiologist in a group practice.
He and his family became very involved in showing horses, establishing Pine Ridge Farm. Following the graduation of his children, he and his wife, Louise, shifted the direction of the farm to horse racing where they became prominent members of the Oklahoma racing world.
Bill retired from his medical practice in 2000. Now he was able to enjoy the company of his wife as she eased him into the workings of the horse farm. He soon became her right arm, helping with feeding, foaling out the mares and keeping the grounds in shape.
Pine Ridge Farm bred and/or raced numerous stakes winners including Oklahoma Futurity(G2) winner Corona Fireball, Easy Jet Stakes winner Too Tough To Catch, Oklahoma Bred Futurity(RG3) winner Trickie Lassie, stakes-placed Trick On the Run and many more.
He also had time to become a more active member at Highland Hills Baptist Church by serving as a Sunday School teacher and as a Deacon from 2007 until his death.
Bill is survived by his wife Louise Bullock of Yukon; daughter Sonya Bullock of OKC; grandson Jeff Murphy of OKC; and numerous family members living in the Carolinas. A son, Glenn, and 1s siblings preceded him death.
Funeral services are under the direction of Chapel Hill Memorial Gardens. To share your memories or sign the guest book CLICK HERE.