RACING THIS WEEK
FEATURES
SERVICES
Wyoming horsemen urged to ask their legislators to vote no on House Bill 75.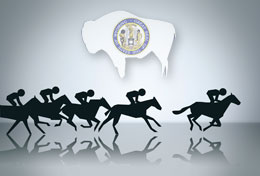 Wyoming Horsemen Urged To Call Their Representative
AMERICAN QUARTER HORSE ASSOCIATION--FEBRUARY 13, 2018--
Wyoming horsemen are encouraged to call their legislators about the Wyoming House Bill 75.
Horsemen are urged to call today, February 13 and ask legislators to vote no on House Bill 75.
The bill would raise taxes to 32 percent of gross receipts. The horse industry paid over $8 million in Wyoming State Taxes in 2017. This bill would raise taxes by $2.1 million. That money is needed for live horse racing.
Call the Voter Hotline at 1-866-996-8683 to leave a message for your representative.
CLICK HERE and follow the House Link to identify your Representative.
AQHA News and information is a service of the American Quarter Horse Association. For more news and information, follow @AQHARacing on Twitter, watch the AQHA Racing Newscast and visit aqha.com/racing.